High School Graduation
High school graduation is a milestone event! It is a time of decisions for what is next, a time of recognition and celebration for studies achieved.

Use these poems and these quotes to share and encourage the high school graduate! Congratulation them on their achievement.


Graduating High School
Poet: Julie Hebert, ©2011

Say so long to your years of high school,
You've done great but its time to move on.
You're headed for greatness next fall so,
Enjoy this summer but don't yawn.

You've done so well to get where you're going,
Graduation is proof of that.
You've studied and done you're very best,
And that's why we are giving you the scat.

We want you to take time to relax,
Having fun should be in there as well.
Get out and do some discovering,
I know you'll have stories to tell.

Once again congrats on graduating,
And doing so well to get here.
You deserve all that is coming,
I hope you know how happy we're here.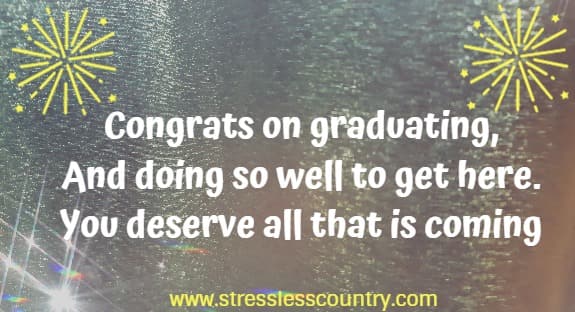 Routines
Poet: Julie Hebert, ©2015

Routines are routines,
To keep you in check.
To get you to school,
To keep you from being a wreck.

Routines are needed,
For all of us most of the time.
But big things create change,
And routines move aside.

And this is okay,
As new ways come into play.
It just sometimes can be hard,
To get use to the new way.

You'll find out whats new,
And what works best for you.
And then you will see,
A new routine you can do.

And a new change can be nice,
Whether it is big or is small.
You learn so much new,
And won't be bored at all.

So as you graduate, embrace new routines,
And the changes as well.
You may even learn to like change,
In time you'll be able to tell.









Never Forget
Poet Unknown

Never forget your high school days.
The years in which you grew
Challenges and happy times you went through.

Tomorrow each will go their own way;
And friends may drift apart.
But the memories of joys you've shared.
Will always live within your heart.

No matter what faces you tomorrow
Believe you can overcome any fears;
May you do your uttermost.
To have success in future years.

These four years of high school life
You'll leave behind with many a sigh.
But you'll hold them fast in memory.
A new beginning, but also a good-bye.



More Graduation Poems
High School Graduation Quotes:
When you arise in the morning, give thanks for the morning light, for your life and strength. Give thanks for your food, and the joy of living. If you see no reason for giving thanks, the fault lies with yourself.
Tecumseh, Shawnee Chief
Good Morning Poems


Stay committed to your decisions, but stay flexible in your approach.
Tom Robbins
Decision


We all have the potential to be so much more.
David Goggins, Can't Hurt Me
Short Inspirational Quotes


I think we need an experience - an encounter that takes exposed and explained truth to a deeper level in our hearts than it would ever go otherwise.
David Platt, Something Needs to Change
Experience


Youth is the summer of life, the best time to develop your gifts, strengths and talents.
Idowu Omisore, Invest Your Youthful Years
Youth


Does anybody really think that they didn't get what they had because they didn't have the talent or the strength or the endurance or the commitment?
Nelson Mandela
Poems About Winning


Have courage enough to accept what you can not change, but yet courageous enough to stand up and fight for what you can.
Robert M. Hensel
Don't Quit Poem


I've learned that education, experience, and memories are three things that no one can take away from you.
H. Jackson Brown, Jr.
Memories Quotes

More Quotes To Live By


You May Also Like:
Graduation Sayings

Poems About Life

Poems of Encouragement

High school graduation is a major accomplishment and needs recognition and celebration A well deserved break is needed before venturing to the next goal, whether it be college, university or a job. Share the thoughts of these poems and quotes with the high school Graduate to wish them well.


More Graduation Poems to Encourage and Inspire


Short Poems and Quotes | Poems | Quotes | About Us | Contact Us |