16 Poems About School
Be inspired by these poems about school. Our school days can be the best day of our lives. But like life, school can have its ups and downs. Here you will find poetry about the first day of school, feelings of school ending and vacation time, poems about the end of school and also you will find a collection of poems written by famous poets about school.
Depending on our age we either love or hate school. And sometimes as we age school getters harder or easier. It goes without saying children need their education to give them a good foundation for life. The experiences we have in school will follow us throughout our lives. And many times as we get older we look back and realize that our school days were the best days of our lives. May these poems be ones that you share with children to inspire them to learn all they can and do their best!
Short Poems
   /  
Poems About Life
   /   School Poems
First Day
Poet: Catherine Pulsifer, ©2021

The first day of school is the reason why
Children are happy but then some cry
The first day of school can be a fear
For our little ones that are so dear.

Often they go holding Mom's hand
But they would rather be playing in the sand
With eyes so wide they look around
But their focus is on the playground.

The teacher approaches with a smile
She welcomes the little ones with style
There are a lot of kids in the room
Dressed in new clothes and oh, so groomed.

"I'll be back in a little while,"
Says the Mom with a smile.
"Go and play with your new friends"
Off to school, the Mom does send.





Do Your Best
Poet: Phoebe Cary

Do your best, your very best,
And do it every day.
Little boys and little girls,
That is the wisest way.





Just For One Day
Poet: Catherine Pulsifer, ©2021

The teacher says, "open your books."
With that comment, I gave her a look.
Oh why do I have to be here
I think with a sneer.

Teachers, books, and tests I don't like
I'd rather be in the woods on a hike.
All this learning hurts my brain
School just seems like a pain.

There must be more to life I think
Pens, and paper, and just more ink
If I could only have my way
School would be just for one day!





A Good Foundation
Poet: Catherine Pulsifer, ©2021

Oh I recall my school filled days
I now realize how much it pays
To learn and get an education
It truly gives you a good foundation.

Life will teach you many things
Ups and downs and many swings
But the learning that I got at school
Has made me not anyone's fool.

So learn all you can while you're in school
Don't worry about being so cool.
Always do your very best
And life will take care of the rest.





School Bell
Poet: Eleanor Farjeon

Nine-o'clock Bell!
All the small children and big ones as well,
Pulling their stockings up, snatching their hats,
Cheeking and grumbling and giving back-chats,
Laughing and quarreling, dropping their things,
These at a snail's pace and those upon wings,
Lagging behind a bit, running ahead,
Waiting at corners for lights to turn red,
Some of them scurrying,
Others not worrying,
Carelessly trudging or anxiously hurrying,
All through the streets they are coming pell-mell
At the Nine-o'clock Bell!





Summer Comes
Poet: Catherine Pulsifer, ©2021

I always look forward to when summer comes
And the school year is finally done.
No more teachers, no more books,
I'll just sit by the winding brook.

I'll dream of things that life will bring
The days are great, it makes me sing
I can do whatever I want with the day
I love summer in every way!

But by summer's end
I do miss my friends
So off to school I will go
My friends greet me with a big hello.

Another school year has begun
I will learn and ask questions.
I'll study again and do my best
I will ace every test.

As the year passes by
To my work, I will apply
I will dream of summer days
No more study, just full of play.





School Rule
Poet: Arthur A. Knipe

"Do not whisper" is a rule
You will find in every school,
And the reason here is given
In a rhyme.

For children all will chatter
About any little matter
And there'd be a dreadful clatter
All the time.





Success Is Yours
Poet: Catherine Pulsifer, ©2021

To be successful in school
Don't clown around and act like a fool
Have a learning attitude
Be full of gratitude.

Ask the questions, learn all you can
Determine what you want and have a plan
These are the best days of your life
Don't fill them with foolishness and strife.

Your teachers only want the best
That is why they give you the test.
They want success for you
In your life and all you do.

The choice is yours to make
You can learn or be a fake
When you look back you will see
That it prepared you for your degree!

Try to be cheerful and kind, bringing pleasure into
the lives of those at home and at school.





A Child's Thoughts
Poet: Robert Louis Stevenson

I woke before the morning, I was happy all the day,
I never said an ugly word, but smiled and stuck to play,
And now at last the sun is going down behind the wood,
And I am very happy, for I know that I've been good.





The Years Of School
Poet: Catherine Pulsifer, ©2021

Grade one, grade two, grade three
Were fun, happy, and free
I made friends and had lots of play
I loved going to school every day.

But then came four, five, and six
The work seemed hard as bricks.
We now were subject to many tests
Maybe school is not what they suggest.

Next, you know came seven, eight, and nine
I felt I was starting to shine
I could do a lot of things on my own
Sometimes school just made me groan.

And the last, ten, eleven, and twelve
School I was ready to shelve.
But when graduation day came
I proudly showed my diploma in the frame.

The next chapter of life for me
Will see me in university for my degree
May the foundation that my teachers gave
Serve me well in every way.





Quit?
Poet: Catherine Pulsifer, ©2021

School enough, I am going to quit
I have had enough I am going to split
Why do I have to go,
What do I have to show?

I talked about this to friends of mine
They did not think quitting would be fine
They said, "What will you do
No education, no job for you."

I thought about the words they said
And even though school I dread
I need this education to survive
I will change my attitude and thrive.






Poems About School by Famous Poets

Afternoon in School - The Last Lesson
Poet: D. H. Lawrence

When will the bell ring, and end this weariness?
How long have they tugged the leash, and strained apart
My pack of unruly hounds: I cannot start
Them again on a quarry of knowledge they hate to hunt,
I can haul them and urge them no more.
No more can I endure to bear the brunt
Of the books that lie out on the desks: a full three score
Of several insults of blotted pages and scrawl
Of slovenly work that they have offered me.
I am sick, and tired more than any thrall
Upon the woodstacks working weariedly.

And shall I take
The last dear fuel and heap it on my soul
Till I rouse my will like a fire to consume
Their dross of indifference, and burn the scroll
Of their insults in punishment? - I will not!
I will not waste myself to embers for them,
Not all for them shall the fires of my life be hot,
For myself a heap of ashes of weariness, till sleep
Shall have raked the embers clear: I will keep
Some of my strength for myself, for if I should sell
It all for them, I should hate them -
I will sit and wait for the bell.





The Schoolboy
Poet: William Blake

I love to rise in a summer morn,
When the birds sing on every tree;
The distant huntsman winds his horn,
And the skylark sings with me:
O what sweet company!

But to go to school in a summer morn, -
O it drives all joy away!
Under a cruel eye outworn,
The little ones spend the day
In sighing and dismay.

Ah then at times I drooping sit,
And spend many an anxious hour;
Nor in my book can I take delight,
Nor sit in learning's bower,
Worn through with the dreary shower.

How can the bird that is born for joy
Sit in a cage and sing?
How can a child, when fears annoy,
But droop his tender wing,
And forget his youthful spring!

O father and mother if buds are nipped,
And blossoms blown away;
And if the tender plants are stripped
Of their joy in the springing day,
By sorrow and care's dismay, -

How shall the summer arise in joy,
Or the summer fruits appear?
Or how shall we gather what griefs destroy,
Or bless the mellowing year,
When the blasts of winter appear?





In School-Days
Poet: John Greenleaf Whittier

Still sits the school-house by the road,
A ragged beggar sleeping;
Around it still the sumachs grow,
And blackberry-vines are creeping.

Within, the master's desk is seen,
Deep-scarred by raps official;
The warping floor, the battered seats,
The jack-knife's carved initial;

The charcoal frescoes on its wall;
Its door's worn sill, betraying
The feet that, creeping slow to school,
Went storming out to playing!

Long years ago a winter sun
Shone over it at setting;
Lit up its western window-panes,
And low eaves' icy fretting.

It touched the tangled golden curls,
And brown eyes full of grieving,
Of one who still her steps delayed
When all the school were leaving.

For near it stood the little boy
Her childish favor singled;
His cap pulled low upon a face
Where pride and shame were mingled.

Pushing with restless feet the snow
To right and left, he lingered;--
As restlessly her tiny hands
The blue-checked apron fingered.

He saw her lift her eyes; he felt
The soft hand's light caressing,
And heard the tremble of her voice,
As if a fault confessing.

"I'm sorry that I spelt the word:
I hate to go above you,
Because," - the brown eyes lower fell, -
"Because, you see, I love you!"

Still memory to a gray-haired man
That sweet child-face is showing.
Dear girl! the grasses on her grave
Have forty years been growing!

He lives to learn, in life's hard school,
How few who pass above him
Lament their triumph and his loss,
Like her, because they love him.





On Old Man's Thought Of School
Poet: Walt Whitman


An old man, gathering youthful memories and blooms, that youth itself cannot.

Now only do I know you!
O fair auroral skies! O morning dew upon the grass!

And these I see - these sparkling eyes,
These stores of mystic meaning--these young lives,
Building, equipping, like a fleet of ships - immortal ships!
Soon to sail out over the measureless seas,
On the Soul's voyage.

Only a lot of boys and girls?
Only the tiresome spelling, writing, ciphering classes?
Only a Public School?

Ah more--infinitely more;
(As George Fox rais'd his warning cry, "Is it this pile of brick and
mortar--these dead floors, windows, rails--you call the church?
Why this is not the church at all--the Church is living, ever living
Souls.")

And you, America,
Cast you the real reckoning for your present?
The lights and shadows of your future--good or evil?
To girlhood, boyhood look--the Teacher and the School.





Vacation Time
Poet: Edgar A. Guest

Vacation time! How glad it seemed
When as a boy I sat and dreamed
Above my school books, of the fun
That I should claim when toil was done;

And, Oh, how oft my youthful eye
Went wandering with the patch of sky
That drifted by the window panes
O'er pleasant fields and dusty lanes,

Where I would race and romp and shout
The very moment school was out.
My artful little fingers then
Feigned labor with the ink and pen,

But heart and mind were far away,
Engaged in some glad bit of play.
The last two weeks dragged slowly by;
Time hadn't then learned how to fly.

It seemed the clock upon the wall
From hour to hour could only crawl,
And when the teacher called my name,
Unto my cheeks the crimson came,

For I could give no answer clear
To questions that I didn't hear.
"Wool gathering, were you?" oft she said
And smiled to see me blushing red.

Her voice had roused me from a dream
Where I was fishing in a stream,
And, if I now recall it right,
Just at the time I had a bite.

And now my youngsters dream of play
In just the very selfsame way;
And they complain that time is slow
And that the term will never go.

Their little minds with plans are filled
For joyous hours they soon will build,
And it is vain for me to say,
That have grown old and wise and gray,

That time is swift, and joy is brief;
They'll put no faith in such belief.
To youthful hearts that long for play
Time is a laggard on the way.

'Twas, Oh, so slow to me back then
Ere I had learned the ways of men!
More Poems About Life to Inspire & Encourage
Related Short Poems & Quotes You May Also Like: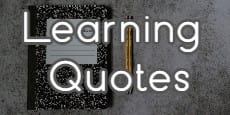 Learning Quotes
Graduation Poems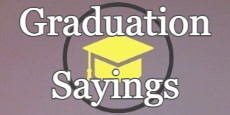 Graduation Sayings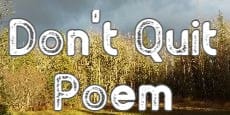 Don't Quit Poem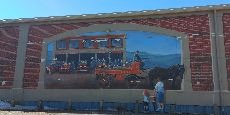 The Life School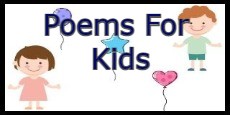 Poems For Kids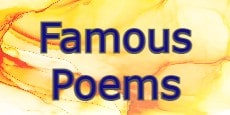 Famous Poems
Short Poems
    |    
Poems
    |    
Famous Poems
    |    
Quotes
    |    
About Us
    |    
Contact Us
    |