Lessons Learned In Life
Think of how many lessons learned in life that you have experienced over the years. There are lots of lessons we learn, good and bad, success or failure, happy or sad. We learn from others, we learn from experience, we learn from seeing. Let these poems about lessons learned in life encourage and inspire you to continue to learn and move your life in the direction you want to go. No matter what mistakes you have made, what challenges you are facing there is always something that you can learn. And always learn from the experience of others - look at their mistakes and failures and apply that knowledge to your life!

Short Poems   /   Poems About Life    /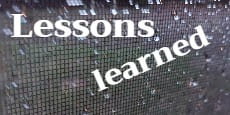 - related: Life Lessons Quotes


One Lesson
Poet: Catherine Pulsifer, © 2020

One lesson in life I learned at an early age
That there is learning at every stage.
What I thought I knew all about
Was only wrong and I saw fallout.

The best thing that I heard from the preacher
Is that failure is truly a teacher
Stand back and learn from it
It can teach you quite a bit.

Don't hold grudges, do forgive
Live your life finding the positive
Find the good, forget the bad
Then you find happiness, not the sad.

Learn one thing each day
And you will find others will say,
"He knows so much, when did he get smart?"
And with that I will impart -

Just keep learning through your mistakes
Don't give up, you have what it takes!




Life's Lessons In the Flowers
Poet: C. C. Hassler

The frost fell crisp and white upon
A bright October morn;
The flowers that bloomed in beauty are,
Alas, of beauty shorn.
The rose with fragrance sweet that bloomed,
Has drooped its crimson head.
And like the modest pansy lies
All withered, bleak and dead.
The frost King — harsh, relentless — touched,
As with a magic wand,
The summer beauties as the sere
October morning dawned.

Thus life's fond hopes' and longings oft
Will vanish in a day.
And like the flowers that bud and bloom
Pass silently away.
Youth, with its pleasures, quickly fades,
But love's young dream oft told,
Thank God, outlives the chillng frost
To cheer us when we're old.
And blooms anew each day and year
Beneath the warmth and glow
Of summer's sun. as first it did.
Long, long, bright years ago.

So let us cherish all the joys
That summer's bloom imparts,
And fold them tenderly and safe
Wiithin our care-worn hearts.
Some glad, bright morn they'll bloom again —
Some glad, bright day we'll see
The wisdom of the Hand that shapes
Life's path for you and me.
And far more joyous will it be
Their glad return to greet;
Bright bud and blossom cheering us
With fragrance new and sweet.




A Lesson We Should Heed
Poet: Unknown

Here's a lesson all should heed —
Try, try again.
If at first you don't succeed,
Try, try, try again.
Let your courage well appear;
If you only persevere,
You will conquer, never fear —
Try, try, try again.

Twice or thrice though you should fail,
Try again.
If at last you would prevail,
Try again.
When you strive, there's no disgrace,
Though you fail to win the race;
Bravely then, in such a case,
Try, try, try again.

Let the thing be e'er so hard,
Try again.
Time will surely bring reward —
Try again.
That which other folks can do,
Why, with patience, may not you?
Try, Try, Try Again




A Nobler Way
Poet: Rev James Allison Barnes

To live and learn, to ever think the thought
That gives a richness to the soul's ideals.
Is better far than letting self, when sought,
Become supreme in all one thinks and feels.
To rise above the sordid quest for gain,
And strive to use in nobler ways the soul,
Which finds its bent, its true, divinest aim
In pressing upward, never downward, towards its goal.




Lessons Learn
Poet: Unknown

Learn to laugh.
A good laugh is better than medicine.
Learn how to tell a story.
A good story is as welcome as a sunbeam in a sickroom.

Learn to keep your own troubles to yourself.
The world is too busy to care for your ills and sorrows.
Learn not to croak. If you cannot see any good in the world,
Keep the bad to yourself.

Learn to hide your aches and pains
under a pleasant smile.
Learn to meet your friends with a smile.
More Poems About Life to Encourage and Inspire
Related Short Poems & Quotes You May Also Like: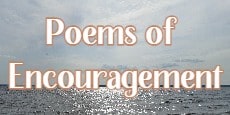 Poems of Encouragement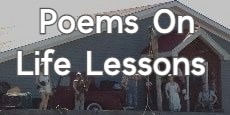 Poems on Life Lessons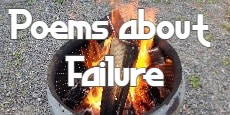 Poems About Failure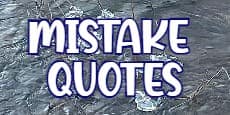 Mistake Quotes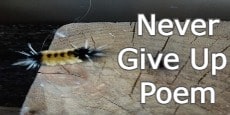 Never Give Up Poem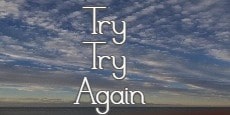 Try Try Again Poem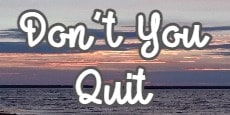 Don't You Quit




Short Poems    |     All Poems    |     Quotes     |     About Us    |     Contact Us    |