Poem About Life Lessons
Be encouraged by a poem about life lessons. We all go through it, we have experiences and examples. Also, find inspiring quotes about life lessons.

We all make mistakes and errors, disappointments and discouragements. But if we are wise we learn from these. Let these poems remind you that life is too short to focus on them, learn from them and move on.


Lesson's Learned
Poem by Catherine Pulsifer © 2011


A lesson is learned every day,
The one I learned was just today.
I learned that others can't be pressed,
To do or act as I feel best.

I've learned that people are their own,
And only I can change the known.
If I don't like how something is,
Changing me is all there is.

So next time you come across this issue,
Don't get mad and grab a tissue.
Change the way that you react,
And maybe that will help impact.

A lesson is learned every day,
What lesson did you learn today?
Whatever it is, I'm sure it's great,
Take what you've learned, don't let it wait.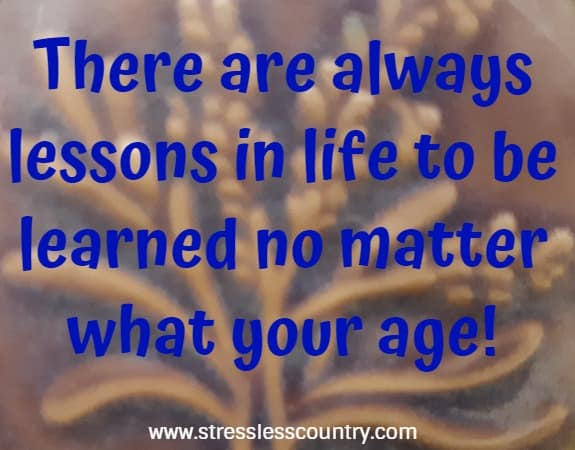 No Matter Your Age
Poem by Catherine Pulsifer © 2016


There are so many lessons to learn
No wonder our parents were concerned.

We never stop learning no matter our age.
The worse of these are the years of teenage.

As we age we often find
We have to keep an open mind.

Many times we thought we knew it all
Only to realize how quick we could fall.

So no matter what your age pay attention
To the lessons that others do mention.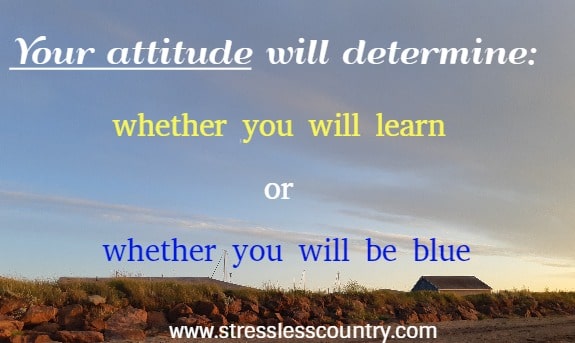 Life Issues
Poem by Catherine Pulsifer © 2019


When faced with life issues
Don't let it give you the blues.
Look for the lesson in it
Rather than sulking and having a fit.

With every trouble comes a blessing
Don't be discouraged, It is not depressing
Often times when you look back
There was a lesson to learn not an attack.

So change your attitude and you will find
Learning life lessons can be kind.
Helping you become the person you were meant to be
Just do your best and you will see!



Life Lessons Quotes


Focus on what you can do today instead of on yesterday's regrets or tomorrow's worries.
Julie Mehtae
Short Quotes



It is never too late to re-examine our choices. Re-examination is wise. We always have choices.
Anne Wilson Schaef, Meditations for Women Who Do Too Much
Choices



The road of life twists and turns and no two directions are ever the same. Yet our lessons come from the journey, not the destination.
Don Williams, Jr.
Life Journey Quotes



Always remember that even during the hardest of times there are lessons to be learned, and through those lessons we have an opportunity to strengthen our spirit.
Josh Hinds
Poems of Encouragement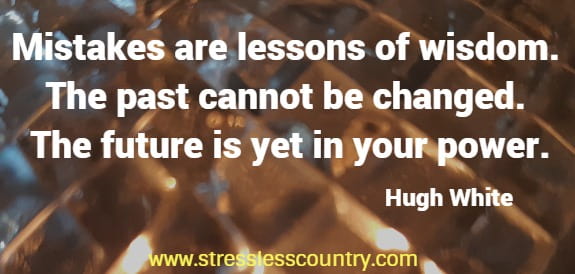 Mistakes are lessons of wisdom.
The past cannot be changed.
The future is yet in your power.

Hugh White

Motivational Poems


Quotations help us remember the simple yet profound truths that give life perspective and meaning. When it comes to life's most important lessons, we can all use gentle reminders.

Chriswell Freeman

Positive Poems


In fact, the best lessons you have to offer in life come from your struggles in the darkness and grit of life.

Lashawnda Jones

Don't Quit Poem


The value of making the most of our experiences is that they teach us lessons about life- about failures, successes, and everything in between. In the midst of our challenges always remember success often comes in disguise.

Dean Pennicott

Success


In every adversity there lies the seed of an equivalent advantage. In every defeat is a lesson showing you how to win the victory next time.

Robert Collier

Adversity


Develop a calm inner voice that reinforces an "I can" attitude that sees failures as lessons learned, that sees obstacles in life as an opportunity to develop solutions

Byron Pulsifer

Best Attitude Quotes



You May Also Like
Poems about Life

Graduation Poems

Learning Quotes

Inspirational Quotes About Life and Struggles

We hope you have found a poem on life lessons or a quote that expresses your thoughts and feelings. Share a poem with someone who could use a bit of inspiration.

Short Poems and Quotes | Poems | Quotes | About Us | Contact Us |