Train Of Life Poem
This Train of Life poem is one that is a true inspiration for life. It reminds us we all experience life's journey during our many stops and starts in life. It is full of wise words to remind us of the important things in life. And it leaves us with the thought of what will people remember about us when we die - a thought-provoking experience when you reflect upon that. Do we take the time today to appreciate and spend time with those that have influenced and supported us during our life? Do we tell the people we love that we love them? Let the words of this poem be ones that you take to heart.
There are many poems about life that will encourage and inspire you to enjoy life and appreciate those around you. We have other poems that relate to our life and the train ride it takes us on. May all of these poems inspire you to live life to the fullest, accepting all that it has to offer!
Short Poems
   /  
Poems About Life
   /  Train Of Life Poem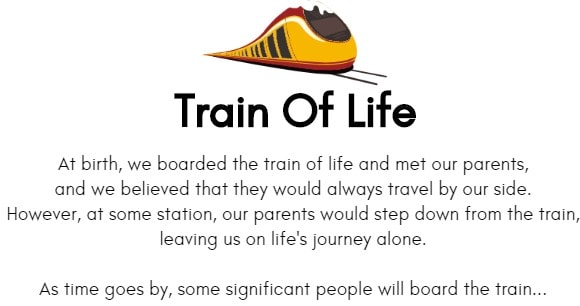 Train of Life
By Jean d'Ormesson

At birth, we boarded the train of life and met our parents,
and we believed that they would always travel by our side.
However, at some station, our parents would step down from the train,
leaving us on life's journey alone.

As time goes by, some significant people will board the train:
siblings, other children, friends, and even the love of our life.

Many will step down and leave a permanent vacuum.
Others will go so unnoticed that we won't realize that they vacated their seats!
This train ride has been a mixture of joy, sorrow, fantasy,
expectations, hellos, goodbyes, and farewells.

A successful journey consists of having a good relationship with all passengers,
requiring that we give the best of ourselves.
The mystery that prevails is that we do not know at
which station we ourselves will step down.
Thus, we must try to travel along the track of life in the best possible way -
loving, forgiving, giving, and sharing.

When the time comes for us to step down and leave our seat empty -
we should leave behind beautiful memories for
those who continue to travel on the train of life. Let's remember to thank our Creator
for giving us life to participate in this journey.
 I close by thanking you for
being one of the passengers on my train!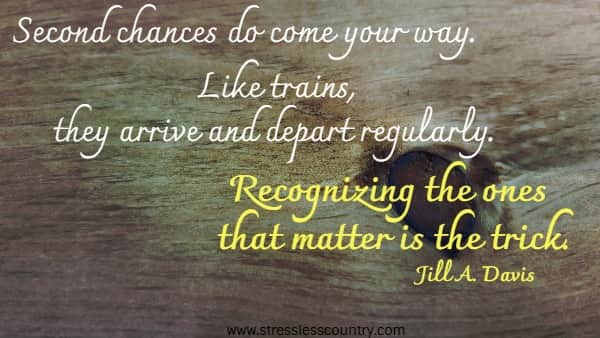 Enjoy The Ride
Poet: Catherine Pulsifer

Life can be like a train ride
We move along and just glide.
We are content and things are good
We feel all is well and we are understood.

But life can be like a train ride
We feel like we have been broadside
We come to a screeching halt
Challenges that we face feel like an assault.

Remember life can be like a train ride
Focus on things that bring you delight.
Find blessings in the little things
As you hum along, be thankful for all life brings.

The ups and downs,
The people and the clowns
Nothing is just black and white
Just enjoy the train ride.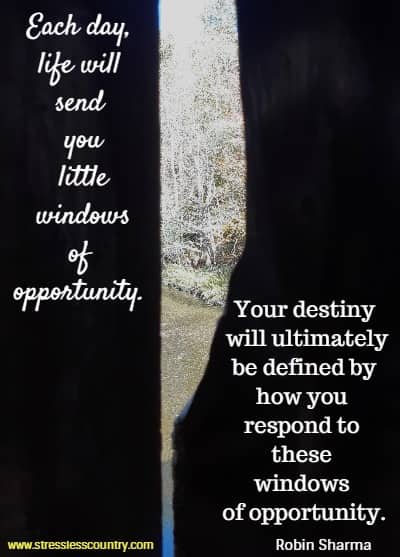 In This Life
Poet: John Scott Penny

In this life, sorrow and joy.
Mingled are, in strange alloy;
Alternating every day,
As the night is, and the day.

Some lives, seeming have to bear.
More of sorrows than their share.
While no anodyne of grief.
Ever comes to their relief.

Others, ever seem to be.
In a state of ecstacy,
Living ever in the light,
With no thought of coming night.

Yet a shadow, sure, must fall,
'Cross the path, of one, and all;
Never was a day so bright.
But was followed by the night.

Never has there been a night.
But was followed by the light,
Of a sure returning day.
Chasing shades of night away.

So our lives are spent on earth.
Full of sadness and of mirth.
As the night follows the day.
Alternating all the way.






Sunshine And Shadow
Poet: Lillian E Curtis

Oft morning's brightest sunshine pales,
Long hours before the night,
And many a dense and misty shadow veils
The brilliant rays of early light;
Yet while the dazzling sunbeams met the eye,
We quaffed the joy they brought,
And when we see how soon they die,
We read the lesson taught.

A lesson for Life is typified by Day,
And we start with prospects bright,
Soon, perhaps, to see them swept away,
And vanished from our sight:
Thus oft we're hailed by dark Despair,
Motioned towards her waters deep,
Because our temples bright and fair,
Lie shattered at our feet.

Bringing fact, instead of fancy, to our view,
We see many a castle rent asunder,
Crushed, and broken through and through,
And bright names were of that number;
Of Love, and Joy, and Hope and Trust,
But lo, we wake with a sudden start,
To find prostrate and crumbled in the dust,
The fair idols of our heart.

How often the casket of our hopes is broken,
And its precious contents spilled,
Leaving scarce one testimonial token,
Of the jewels with which 'twas filled;
And if Fate grows harsher still and sterner,
And our dearest treasures perish,
We know, though we sigh and murmur,
Earthly idols we should not cherish.

We may prize our gems from Fortune's hand,
Love our friends God-given,
But dwelling, too, on a safer strand,
With our brightest tho'ts of Heaven.
Many and tempestuous are the storms of life,
While its thorns are not a few,
But looking aloft o'er the field of strife,
There's One will lead us through.

Shadows all through our life will come,
We couldn't dispel them if we would,
And perhaps 'twere better not to be done,
For their presence may do us good:
For were our lives, lives of sunshine quite,
Without a shadow here and there,
Soon, we shouldn't appreciate the brightest light,
But deem it, as a matter of course, our share.

Life is a blending of sunshine and showers,
One from the other we cannot well single,
December's snow and May's gorgeous flowers,
In forming the seasons must mingle;
Thus when dark clouds obscure the way,
For death we would not yearn,
But hopeful wait for a fairer day,
Take sunshine and shadow in turn.


The Legacy of Life
Poet: Unknown

Remember, there is no legacy like
the example of a holy life.

Be peaceful and joyous,
consecrate the simplest duties of every day,
fill your life with earnest
endeavor and perfect trust;

And no matter how narrow and painful it may seem to you,
when it is ended,
you will look back with wonder
at the influence for good your quiet example
and cheerful spirit have been.
More Poems About Life to Encourage and Inspire
Related Short Poems & Quotes You May Also Like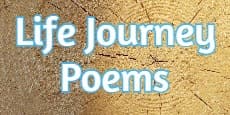 Life Journey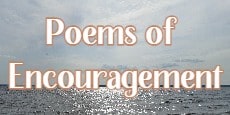 Poems Of Encouragement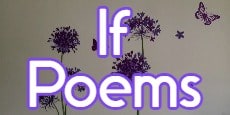 If Poems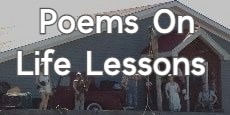 Life Lessons
Life Is Too Short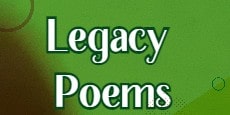 Legacy Poems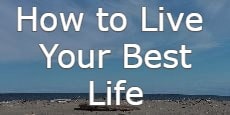 How To Live Your Best Life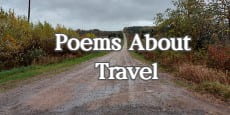 Poems About Travel
We are all on this ride of life, and our attitude and our choices determine the type of ride we may have. Love those around you, forgive others, and appreciate all your blessings - by doing this you will find the journey to be a pleasant one. We hope these poems remind you of this.
Famous Poets Featured in These Train of Life Poems:


Lillian E Curtis Poems
More
Famous Poems
to encourage you!
Short Poems
    |    
All Poems
    |    
Quotes
    |    
About Us
    |    
Contact Us
    |