43 Making Memories Quotes
Let these making memories quotes remind you that what you do each day is being stored in your memory bank. We don't realize the importance of making happy memories, times that we can draw on and that will bring a smile to our face during the times when life presents challenges.
Don't pass up the opportunity to spend time with family and friends as they will become important memories as the years pass. None of us knows how long each of us will be on this earth, time with family and friends is precious, and making memories will be the result of the time spent with them.
And, we all have memories that are ones that are not happy ones. However, find the good in the challenging times and focus your mind on the good which will erode the memories that are unpleasant. As with everything in life focusing on the positive can make a memory more tolerable. You may also find these
poems about memories
inspiring.
Quotes
   /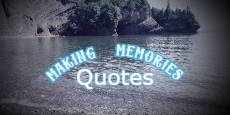 More Quotes for Encouragement and Motivation
Short Poems & Quotes
    |  
About Us
    |  
Contact Us