Words To Live By
A collection of words to live by. Life can be challenging at times let these thoughts, poems, and quotes encourage you to live your life to the fullest.


20 Sentences To Live By
By Catherine Pulsifer, ©2020


1. Always show love
2. Just be yourself don't compare yourself to others
3. Take one day at a time, that is all you're guaranteed
4. You are extraordinary, believe in yourself
5. Don't stress, will this matter in 5 years
6. Always appreciate family and friends
7. Live your dreams by setting your goals
8. Always focus on your blessings, not your troubles
9. Worrying is a waste of time
10. Laugh every day
11. Keep your attitude positive
12. Share your blessings with others
13. Choose to be happy every day
14. Read books that encourage you
15. Take one step at a time, don't get overwhelmed
16. It's never too late to achieve your dreams
17. Learn one new thing every day
18. Be positive, be an encourager
19. Be kind to yourself
20. Always remember, you are one of a kind!



In Life
Poet Grant Ngobean


I believe in life we should be grateful
Of what we have and who we are.
A human being means be alive
And being alive means taking authority of your life.

When you meet challenges stand your ground
And don't be moved by the wind
A human being is like tent,
Has no foundation, when it rains it gets wet
When the wind blows it goes to whichever direction the wind takes it to

With time it gets torn and has to be patched up, that is a life of a man
We go through different challenges in life;
They should make you and not break you
They ought to make you strong
And not discourage you; do not hold to the situation
Go through it and live on,
But remember the lesson learned through it

Live according to Gods calling; move in love, love peace and happiness
Life is too short to live in bitterness, anger and negativity
Empower yourself
And take authority; stop looking for wrong in others
Treasure the little that you have, work on it, be happy and appreciate life
Do what you do best,
Last but not least humble yourself, and let people see God through you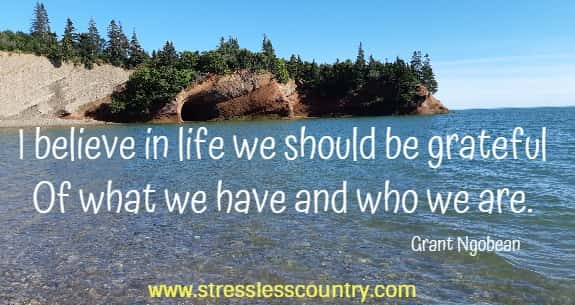 The Art of Taking Time To Live
By Wilferd Peterson


To get the most out of life we must take time to live as well as to make a living. We must practice the art of filling our moments with enriching experiences that will give new meaning and depth to our lives.

We should take time for good books, time to absorb the thoughts of poets and philosophers, seers and prophets.

Time for
. . .music that washes away from the soul the dust of everyday life.
. . . friendships; time for talks by the fire and walks beneath the stars.
. . . children; that we may find again the Kingdom of Heaven within our hearts.
. . . laughter; time for letting go and filling the heart with mirth.
. . . travel; time for pilgrimage and festival ...
. . . nature; time for flower gardens, trees, birds, and sunsets.
. . . love and be loved; for love is the greatest thing in the world.
. . . people; time for the interplay of personalities and the interchange of ideas.
. . . solitude; time to be quiet and alone and to look within.
. . . give of ourselves; ... that we may contribute to the onward march of man.
. . . worship; time for opening our lives to God's infinite springs of vitality, that we may life more abundantly.

In all ways let us make our moments glow with life.


More Poems of Encouragement
Life Quotes to Live By
Our lives are but a speck in time, so make the most out of every day.


Catherine Pulsifer

Quotes to Live By


Life is constructed from millions of minutes; however, we live just one among these moments in one time.


Brandon Parks, Overthinking Beginner Guide

Live In The Moment Quotes


Do all the good you can, by all the means you can, in all the ways you can


John Wesley

How to Live Your Best Life


There is great reward just in the possessing of a grateful heart. It makes one glad if he appreciates life and its blessings.


Steve Pease, What should we be thankful for

Appreciation Quotes


Appreciation is the highest form of prayer, for it acknowledges the presence of good wherever you shine the light of your thankful thoughts.


Alan Cohen

Thanksgiving Blessings and Prayers


Grateful people are better able to weather life's storms.


Amy Newmark, Chicken Soup for the Soul: The Power of Gratitude

Poems About Life


The spirit of thanksgiving is sure to bring divine health to you, increase your faith in God, and help you appreciate life so much more.


Ross Silke, Book of Thanksgiving Decrees

Thanksgiving Poems


Enjoy what's around you, and use all your senses. Appreciate the white, puffy clouds in the sky; some people can't see them.


David DeNotaris

Enjoy Life Quotes


Happiness and feeling good about the lives we are now living are most profoundly determined by the attitudes we hold in our minds.


Gerald G. Jampolsky MD, Aging With Attitude

Attitude Quotes



You May Also Like

Inspirational Poems

Just For Today

Poems About Life

Morning Motivation

We hope the thoughts, poems, and quotes have encouraged you and have added a positive thought to your day. Share these with others who need a reminder about living life to the fullest.


More Poems of Encouragement To Inspire and Motivate


Short Poems and Quotes | Poems | Quotes | About Us | Contact Us |