42 Adventure Quotes
Adventure quotes, thoughts, and sayings all speak to the variety of experiences available to each one of us no matter where or when we live. Adventure doesn't always have to mean to travel or to go beyond one's own backyard.
Life itself is an adventure available to anyone who has the eyes to see and the ears to hear. We are only as limited as we either wish to be or as little as we desire. To adventure also means to move, to take action, to do something that is unusual in one's own sphere of influence, or to move beyond that which is comfortable. In these types of adventure, the unknown is the journey, the excitement where reaching the destiny is not the hallmark of one's travels.
We hope that all of these adventure quotes sparkle the adventuresome side to your being. Share these with someone who does not believe that they are on an adventure every day!
Quotes
   /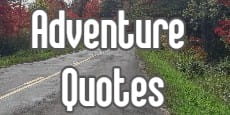 - related: Poems on Adventure





































































































































Adventure Quotes Page 2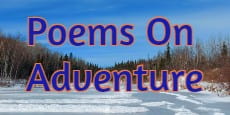 Poems on Adventure
Short Poems & Quotes
    |    
All Poems
    |    
About Us
    |    
Contact Us
    |