Graduation Poems
Here is a collection of graduation poems about that special commemorative day that deserves recognition. Poems for the graduate, poems for fellow graduates, and graduation poems to say thank you! Everyone must expend the energy and diligence to capture the moment; that moment when a person is entrusted with a graduation diploma that marks only the beginning of a new life.

Perseverance and dedication are the hallmarks of what lies beyond high school graduation. Whether that be in obtaining advanced degrees from college or university, it is always attained through hard work, sometimes tears, and many dedicated hours.

We trust these verses will help express your congratulatory thoughts to the new graduate as they begin to reach for the next milestone, the farthest educational journey in their life.



We Are Proud of You
Poet: Catherine Pulsifer

School is over there is no more
Now you can go out there and soar
All your dreams you can now pursue
Each day will be different and so new.

Give it all you got and more
Look for opportunities and open the door
You are wished much happiness
We know you will be a success!

Congratulations on a job well done
Enjoy it and have some fun
Wear the cap and tassel too
We are so very proud of you!



The Moment Your Life Begins
Poet: Julie Hebert, © 2015

From this moment on,
Your life will begin.
From what you knew in the past,
Your life will be changing.

And this is okay,
As life changes a lot.
It's good to be flexible,
And don't have a blind spot.

Keep your eyes wide open,
In search of the best.
The big shot will come around,
And it'll be you they'll request.

Stay open and positive,
So people can know,
The person you are inside,
A person with show.

Take what you need,
From the past, you are now.
And take steps on forward,
To the life, you will allow.

And when you feel frustrated,
And feel a bit down.
Remember who you are,
Turn that frown upside down.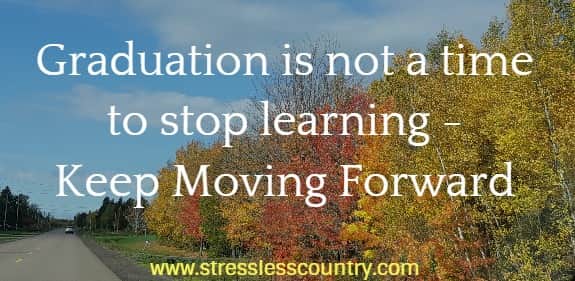 We The Seniors
Poet: Unknown

We, the seniors do pledge, for the future's sake.
To strive to do our very best In all we undertake.

Some of us will be slow, some fast
As we climb the ladder of fame.

But finally we will all get there
And win ourselves a great name.

There will always be some conflicts
In this great world of today.

But it will be up to we seniors
To resolve them on our way.

As we become older our memories we shall grow fonder.
Let us bear these thoughts in mirid, as on our way we wander.

Read more poems for High School Graduation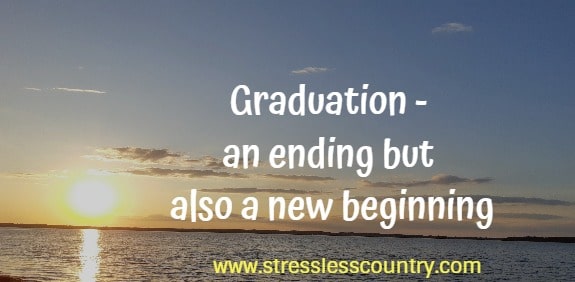 Chapters of Life
Poet: Catherine Pulsifer

This stage of life has seen us
Study until we felt like we would bust
But today is the day
We are actually on our way.

Our learning has been great
But for this day we wait
A celebration of graduation
Will it feel like a vacation.

Life brings a new chapter
That is what learning is after
The knowledge to decide
Whether we will go for the ride.

And the coming chapter will see
Success is all up to me
I can move forward with pride
All my learning as a guide.

Chapters of life opening up to me
I will give it my best and be all I can be.
So on this graduation let's reflect
And move forward to achieve what we expect.

Offer congratulations with A New Chapter In Life Poem


Graduation: One At A Time
Poet: Byron R. Pulsifer © 2019

There was only one
Only one at a time.
To long for more
Gives you no more.

You have to take it one by one
With each one earned before anymore.
Do not fret unless you scheme
To do less is but only a dream.
Each day must be claimed
Or else there is nothing but shame.

Delight in what you have earned,
Through your work, though it be hard.
Wait not upon the lawn,
But get to class before you yawn.

You made it through to this point,
In delight there must be more
For should it be left or else it is shunned,
Tis not for you to become undone.

The hopes and dreams of many are
That rest upon your shoulders broad.
Make haste before the age befalls.
It is not the end despite the night
But only the next one in your sight.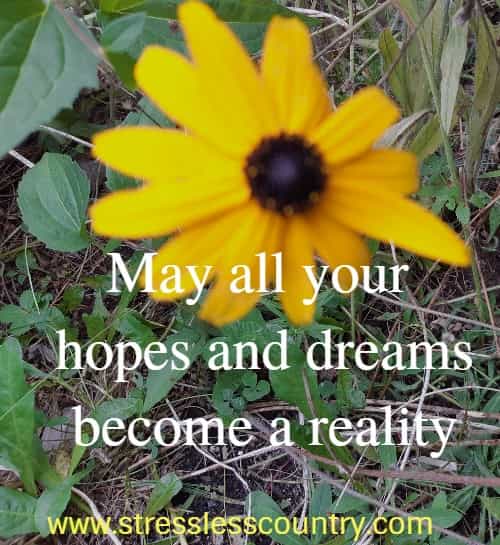 Congrats My Friend
Poet: Catherine Pulsifer

Finally, our big day has arrived
And look we both survived!
We had many a talk about this day
We can't wait, we would say.

We studied hard, we hit the books
Another test, we would give each other the look.
Will it ever be over, the years so slow
But finally today we feel a glow.

Friends we have been through these years
We shared good times and our fears
We had many laughs, oh, such good memories
And we celebrated every small victory.

A friend like you to share the school years
You're different than my other peers
Has been only the best
We survived and passed all the tests.

School has been great
But to you, I must state,
"We will always share a special bond,
I appreciate you and of you, I am so fond."

So my buddy, my friend
Today is the end
But our friendship will carry on
Even after we're gone.

So graduation we do commemorate
This day will always be a special date
Congrats, my dear friend, we did it
We've come to the day and we wrote our own ticket!



A Wish For You My Friend
Poet: Catherine Pulsifer

I wish you for much happiness
I know that you will be a success
I wish for you a future bright
You truly are a shining light.

I wish for you wings to soar
Your future holds so much in store.
I wish for you an easy transition
Move forward with all your ambition.

I wish for you my friend
The happiness you feel today never ends
Congrats to a truly dear friend
This is only the beginning, not the end!

Find more Graduation Wishes For A Friend


Graduation Time
Poet: Catherine Pulsifer, © 2015

Graduations are a time,
To say your farewells.
You'll miss your old life here,
And you're friends you will tell.

Together we've been,
In these halls every day.
Passing each other,
To our classrooms saying 'hey'.

And now we all go,
Our own different ways.
Where in each new hallway,
Is new people each day.

And yes we will make friends,
This we all know.
But it's hard to say goodbye,
To those, we call bros.

Leaving our homes,
For a different scene.
Makes us nervous,
But also excited with glee.

So here we embark,
On the life that awaits.
Congrats to you all,
And good luck in your fates.


Farewell
Poet: Unknown

We bid a fond and sad farewell to you
Of trouble and strife we gave you a share.
But your justice was always impartial and fair.

For the help you have given us.
For the time and the pains.
We can but humbly thank you
Again and again.
We now have to leave you.
And fare life alone.
Our hearts filled with courage
And confidence grown.

What we will make of ourselves
In the world of stress.
Is the result of the training
of high school learning.



We Graduate
Poet: Quinlan Regan

Tonight we are to graduate
To part from bookish tasks
Each one will roam this world alone
A separate Senior Class.

We've many things to do alone
We shall not work in vain
We must go on and upward
Ere joys can be attained.

Let this not be a sad good-bye
Though eyes are welled with tears
But let it be a fond "adieu"
Till we meet in future years.



I Never Said It Enough
Poet: Catherine Pulsifer, © 2019

For always being there, I thank you
For your time and all you do.

For your guidance and direction, I thank you
For always having patience in all you do.

For putting up with my teenage years, I thank you
For showing me the positive in all you do.

For always believing in me, I thank you
You never showed doubt in all you do.

For giving me that push when I needed it, I thank you
For never giving up in all you do.

For inspiring me when I needed it, I thank you
You are a role model in all you do.

I could go on and on
I could even sing you a song,

I realize that I never said "Thank You" enough
As without you, it would have been tough!

So on this Graduation Day
"Thank You", I want to say!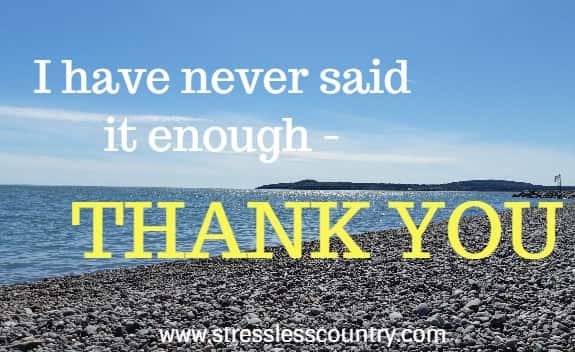 A Thank You
Poet: Catherine Pulsifer

Graduating is finally true
It would not have happened without you
Your encouragement and support
Was wonderful even when I fell short.

You always encouraged and pushed me more
You helped me to learn more and explore
You were always there to understand
And always willing to lend a hand.

So today as I become a grad
I want to say thank you as you had
Believed in me when I did not
You never gave up you always taught.

I'm not sure what the future holds
But thanks to you I'm prepared for it to unfold
I promise you I will do my best
Thanks to you I passed the test.

The words just don't seem to express
How much you contributed to my progress
Thank you, thank you for all you've done
I appreciate you, there is no other like you, none!


More poems to Thank You For Being There For Me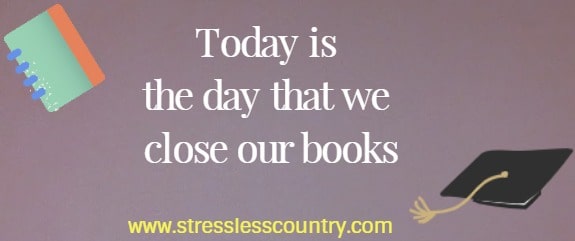 Endings or Beginnings
Poet: Catherine Pulsifer, © 2019

Is this a new beginning or is this the end
Out into the world, we do send
Students to change the world as they may
This is what happens on graduation day.

The end school days has arrived
But put into practice and thrive
You see this new beginning
Is the start of good living!

The end of school but not of learning
The beginning of success by earning
All that you have learned now comes
A chance to earn a good income.

Memories you will take with you
The end of school that's true
But the beginning of your future
Where it's all up to you.

Congratulations to you on your success
We wish you much happiness
So with the new beginning is the key
To do your best and all you can be.

Find more Poems About New Beginnings


Graduation Means To Me ...
Poet: Julie Hebert © 2019

What graduation means to me,
Is opening up a door.
A door that is very new,
And hopefully won't be a bore.

I hope this door is something I,
Have always dreamed it'd be.
Adventures in an unknown spot,
I hope you would agree.

It's hard for me at many times,
To let go of what I've got.
To say goodbye to what I know,
I know it'll be a lot.

But one thing I know for sure,
Is I am growing up.
My life is about to change in a big way,
And I can't wait to see it closeup.





You May Also Like:
Graduation Sayings

Goodbye Poems

Desiderata Poem

Teacher Appreciation Poem

Poems About Life Changes

Mentor Quotes

Poems About Life

Poems of Encouragement

Poems About Winning

Special Occasions

We hope you have found just the right words in these poems to share with the new graduate. Apply these words to middle school, high school, or university accomplishments - Graduation is truly a life milestone and should be celebrated and recognized! It is the beginning of applying all that the student has learned. An accomplishment that should be recognized and celebrated!


More Poems for Encouragement and Inspiration




Short Poems | Quotes | About Us | Contact Us |