47 Quotes About The Bible
There has been much said about the Bible. Let these quotes about the Bible inspire you to open the bible and read it. We strongly feel the Bible is the best self-help book there is on the market today.
There are 66 books in the Bible, written over many years; two main sections, The Old Testament (before Jesus) and the New Testament (after the birth of Jesus). The Bible contains wisdom on how to live a happy and contented life. It is always a good idea to have a copy of a study Bible as you read it as it helps to understand the culture of the day. You may also want to read our collection of
poems about The Bible
.
Quotes
   /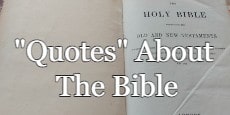 More Quotes for Encouragement and Motivation
Short Poems & Quotes
    |  
About Us
    |  
Contact Us