11 Christmas Eve Poems
Reflect on our collection of Christmas Eve poems. Christmas Eve is a night that changed the world many years ago. It is a time when we reflect on the significance of this night when God's love was demonstrated through the birth of Jesus.

As children eagerly countdown to this cherished evening, the air fills with anticipation and excitement. Through Christmas Eve poems, we capture the essence of this special night, embracing the joy, wonder, and blessings that encompass a miracle that we are reminded of each year.


Christmas Poems    /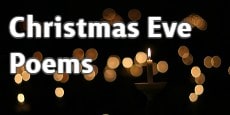 Christmas Eve, A Night of Grace
Poet: Catherine Pulsifer

On Christmas Eve, we gather near,
To celebrate with hearts sincere,
A night so divine, so long ago,
When Love's pure light began to glow.

Over two millennia in the past,
A miracle unfolded, unsurpassed,
God's precious gift, His only Son,
Sent to Earth, a battle won.

In humble manger, a baby lay,
Bringing hope to us on that sacred day,
His birth a symbol, a wondrous sign,
Of grace and mercy, so divine.

As twinkling stars adorned the sky,
Angelic voices soared up high,
They sang of peace, they sang of love,
A gift bestowed from God above.

So, on this Christmas Eve, we pause,
In awe of God's unending cause,
With grateful hearts, we give our praise,
For sending Jesus, in wondrous ways.

Reflecting on that holy night,
We're filled with joy and pure delight,
Thank You, God, for loving us so,
For sending Jesus, that we may know.

Christmas Eve, a night of grace,
Wrapped in love, in warm embrace,
May this season's joy and cheer,
Remind us all, throughout the year.




Christian Christmas Poems



On Christmas Eve
Poet: Catherine Pulsifer

On Christmas Eve, a star did shine,
God's love for us, divine and kind,
He sent His Son, a gift so rare,
To show us love beyond compare.

In Bethlehem, a humble birth,
A Savior came to bless the earth,
Peace and love, fill the air,
On this blessed eve, beyond compare.




Christmas Poems About Love



Christmas Eve
Poet: Carol B. Parker

At midnight in the church a hush falls and we hear
Only a gentle rustling, like the sound
He heard as near His bed the golden straw
Rustled as the cattle gathered round.

Then through the hush the white-robed choir begins
The song of joy, the same the angels then
Sang o'er the plains near Bethlehem, of joy,
Of hope, of peace on earth, good will to men.

And then across the cold, clear air the bells
Proclaim to all the town that Christ is born;
Chiming as even the heavens must have chimed
The night the stars stood still to greet the morn.

And in the hush, and through the song, and with
The bells my heart lifts up, and this I know . . .
The ancient tidings of great joy are still
As thrilling as they were so long ago.




Christmas Bells Poems



Christmas Eve
Poet: Nettie Steeves

It is Christmas time at our house
And everything is gay,
the curtains white are hanging high,
All dust is wiped away.

There's boxes and there's parcels
All tied with ribbon tight,
It is Chrismas eve at our house,
And St. Nick comes here tonight.

The pantry shelves are piled high,
With puddings, cakes and pies,
And if st. Nick should take a peek,
I'm sure he'll be surprised.

The Christmas tree is trimmed and bright,
The Christmas bells are ringing,
And old St. Nick is on his way,
With his toys and pack he's bringing.




Christmas Poems Twas The Night Before



Christmas Eve Song
Poet: Esther Wood

Announce to every feathered wing,
The timid breast, the frightened eye,
That goodness is abroad tonight
And can not, will not, ever die.

On this night even helpless things
In field and forest need not fear,
The star of love is lit again,
This is the blessed time of year.

Above the barn, the family roof,
The drifted bank, the silvered briar,
The star, the holy Christmas star,
Shines with the same eternal fire.

No small furred creature will be lost,
For no one walks alone tonight,
The very universe is held
In His kind hands and in His light.

O say and sing it with the wind,
The branch may break, the earth may frost,
Yet over and beneath it all
Is beauty living and not lost

Below the spire of pointed pine,
Bring peace by every path you go . . .
Leave blessings for the heart of man,
Like lovely footprints in the snow.




Santa Quotes



Welcome Visitor
Poet: Anne J. Harper

When Christmas Eve has come at last
It's Santa's time to fly,
While all the world is fast asleep,
He whirls across the sky.

The children hang their stockings
And they hurry off to bed,
To lie awake and listen
For Santa Claus o'erhead.

But all too soon those weary eyes
Fall shut and fast asleep,
Their dreams are those of fancy things
Which only children keep.

The rooftop soon bears tiny hoofs
As Santa lands his sleigh,
Down the chimney he quickly goes
Then hurries on his way.

And on he goes from house to house
Bringing happiness and joy,
To all the children in the world,
To every girl and boy.

And as he makes his yearly flight
He watches down below
The merry, twinkling Christmas light
Reflecting in the snow.

But soon the dawn comes peeping through
So northward he must veer,
To start in making toys and dolls
For Christmas Eve next year.




Santa Poems



Christmas Eve Reflection
Poet: Catherine Pulsifer

A peace  transcends throughout the earth
As the world remembers Jesus' birth.
"Glory to God" is the praise you hear
As Christmas Day draws near.

And as you go to sleep this night
Remember the star that shone so bright
And the glory that the shepherds found
When Jesus they found, He needed no crown.

He came into this world to save us all
We just need to listen and answer His call.
So this Christmas Eve look to the sky
And give thanks to God on high.




Christmas Poems About Jesus



On the Eve of His Birth
Poet: Arlyle Losse

Softly the stars unveil their light
And shed a sheer transcendent glow
Upon this calm celestial night.

Brushing the heavens with their height,
The fir trees stand in formal row.
Softly the stars unveil their light.

Roadways are ribbons, smooth and white,
Beneath a velvet hush of snow
Upon this calm celestial night.

Carolers robed in red recite
Their ageless chant in accents low.
Softly the stars unveil their light.

Echoing belfries send a flight
Of silver tones that wane and grow
Upon this calm celestial night.

Honoring Him Whose flame shone bright.
Against the shadows long ago,
Softly the stars unveil their light
Upon this calm celestial night.




What Is Christmas Poems



Children's Christmas Eve
Poet: John Keble

Rejoice in God alway.
With stars in Heaven rejoice,
Ere dawn of Christ's own day
Lift up each little voice.
Look up with glad, pure eye,
And count those lamps on high.
Nay, who may count them? On our gaze
They from their deeps come out in ever widening maze.

Ye babes, to Jesus dear.
Rejoice in Him alway.
Ye whom He bade draw near,
O'er whom He loved to pray.
Wake, and lift up the head.
Each in his quiet bed.
Listen! His voice the night wind brings:
He in your cradle lies. He in our carol sings.




Christmas Eve
Poet: Catherine Baker

They had the silences, those men defending
From thieves and beasts the helpless, trusting sheep
The shepherds knew, when flocks were fast asleep,
The quietness of stars through heaven's depths wending.

God had a secret for those watchers tending
The folds on windy plain and hillside steep,
(For ears that would not hear a word too deep)
The good news of the son whom he was sending.

O God, we hear the world's dark death knell ringing,
Herods would blind all eyes that seek the Child,
Mars' underlings scheming, greedy, defiled,
To insane torment flesh and blood are flinging.

Father, tonight our spirits would be winging
To seek the silences of starlit hill
Or plain—come as our hearts grow wisely still
And reassure us with the angels' singing.




Famous Christmas Poems



Christmas Eve
Poet: Edgar A. Guest

Tomorrow morn she'll wake to see
The trinkets on her Christmas tree,
And find beside her little bed,
Where tenderly and soft of tread
Old Santa Claus has walked to leave
The toys that she might still believe.

Her stocking by the chimney place
Gives to the room a touch of grace
More beautiful than works of art
And velvet draperies can impart.
Here is a symbol of a trust
Richer than wisdom thick with dust.

I see it through the half-swung door,
And smile to think long years before
I, too, on Christmas Eve was young
And eagerly a stocking hung
Beside the chimney just as she,
Ere knowledge stole my faith from me.

Upstairs about her bed there seems
The peace of childhood's lovely dreams,
And I, grown old, almost forget
The truths with which I am beset.
Upon this blessed Christmas Eve
I, too, in Santa Claus believe.
More Christmas Poems for The Season
Related Poems & Quotes: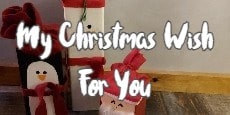 My Christmas Wish For You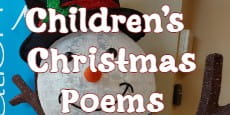 Children's Christmas Poems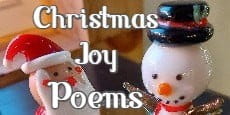 Christmas Joy Poems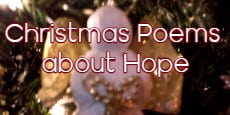 Christmas Poems About Hope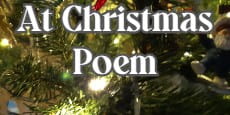 At Christmas Poem
Featured Famous Poets:

Catherine Pulsifer


Edgar A. Guest


More Famous Poems



Short Poems & Quotes    |   About Us    |   Contact Us