16 John Imrie Poems
Be encouraged by these uplifting poems by John Imrie. Born in 1846 in Glasgow, Scotland, John moved to Toronto, Canada in 1871. He held positions of a salesman and a foreman before he and D. L. Graham formed a partnership and established Imrie & Graham.
He wrote many poems and songs over the years, and to quote from the preface of his book, Songs and Miscellaneous Poems, "My style is simple, but none the less sincere, and my chief desire is to please, and encourage the toiling masses. That these humble heart-thoughts and aspirations for the present and future welfare of my fellow- countrymen, and humanity at large, may be accepted in the kindly spirit in which they have been composed..."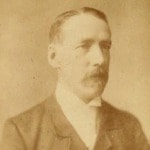 John Imrie
1846 - 1902
Share these poems with someone who may need an uplifting message for their day.
More Famous Poems from Famous Poets to Encourage and Inspire
Short Poems
|
Poems
|
Quotes
|
About Us
|
Contact Us
|