New Year's Resolutions Poems
Each new year many of us make resolutions for the upcoming year. Something we want to change or we want to do is seen in these resolutions. Let these poems give you some thoughts on the new year and resolutions.

New Year Poems    /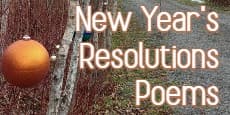 What Resolution
Poet: Catherine Pulsifer

What New Year resolution shall I make?
Should it be to cook and bake?
Maybe more money I will see
Or maybe happy I will be.

What changes in my life do I need?
Are there things I should heed?
Reflection of the past year tells me
Improvement in myself is always the key.




New Year New Beginnings Poems



New Year's
Poet: Catherine Baker

Shake hands, old year, a swift goodbye to you,
Life must go on, let's not hold to the past,
Delay makes no advance for any child
Playing too long beside home's door -goodbye.

Good day, new year. Show me new entrances
To life's wide wonderlands, teach me new skills,
Let me not shun the new faces you will bring,
In every stranger may I see a friend.

O Thou whose strength is given anew each day,
I thank Thee for this future untried year—
Its joys shall send me singing up the path,
Its grief and pain will make me lean on thee.

The unfamiliar year that lies ahead
Will soon be part of all the cherished old.




New Years Blessings



Sounds Good
Poet: Catherine Pulsifer

Resolutions sound so good
A word or a thing to do is shrewd
But just to say it does nothing
Voicing it is not a thing.

If I want my resolution to come true
I must develop a plan through
Setting goals and action plans
Throughout the year it will span.

Otherwise in a month or two
The resolution I will not do.
You need to write it down
And stick to it with no frowns.

Focus on your end goal
How you will feel in your soul
When your goal is complete
The resolution you will keep.




New Year Quotes


"Resolve" is a poem that focuses on the end of a year and the beginning of the next.
The message is to resolve past year's mistakes and regrets and to look forward to the New Year with the expectation of moving towards your dreams and goals.


Resolve
Poet: Ella Wheeler Wilcox

As the dead year is clasped by a dead December,
So let your dead sins with your dead days lie.
A new life is yours, and a new hope. Remember,
We build our own ladders to climb to the sky.
Stand out in the sunlight of Promise, forgetting
Whatever the Past held of sorrow or wrong.
We waste half our strength in a useless regretting;
We sit by old tombs in the dark too long.

Have you missed in your aim? Well, the mark is still shining.
Did you faint in the race? Well, take breath for the next.
Did the clouds drive you back? But see yonder their lining.
Were you tempted and fell? Let it serve for a text,
As each year hurries by let it join that procession
Of skeleton shapes that march down to the Past,
While you take your place in the line of Progression,
With your eyes on the heavens, your face to the blast.

I tell you the future can hold no terrors
For any sad soul while the stars revolve,
If he will stand firm on the grave of his errors,
And instead of regretting, resolve, resolve.
It is never too late to begin rebuilding,
Though all into ruins your life seems hurled,
For see how the light of the New Year is gilding
The wan, worn face of the bruised old world.
More New Year Poems to Inspire
Related Poems & Quotes: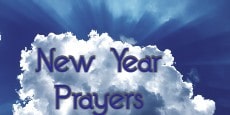 New Year Prayers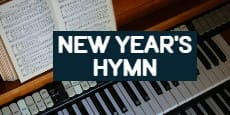 A New Year's Hymn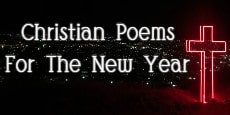 Christian Poems for The New Year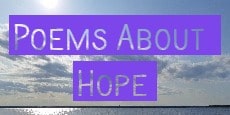 Poems About Hope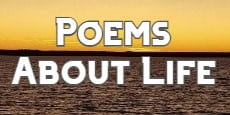 Poems About Life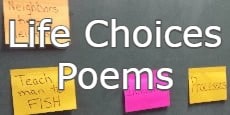 Life Choices Poems
Featured Famous Poets:

Catherine Pulsifer


Ella Wheeler Wilcox

More Famous Poems


Short Poems & Quotes    |   About Us    |   Contact Us