Poems About Jesus
Much has been written about Jesus Christ. Let these poems about Jesus give you words to consider.

There are many names which refer to Jesus: Gods only begotten Son, The Prince of Peace, Immanuel, Light of The World, Messiah, Son of Man, Wonderful Counselor, Mighty God, Everlasting Father, Prince of Peace to name only a few.

Jesus can change your life if you all Him to. The choice is always yours!

We hope these Christian poems encourage and inspire you.



Serve Him Well
Poet: Greta Zwaan, © 2004

Before you serve you must obey, you cannot walk at will,
There's guidance for your daily walk, the Voice says, "Peace, be still."
You must discern the truth of God and recognize your sin,
Be willing to release its hold before God enters in.

You must relinquish all the claims you've held so firm and dear,
That independent will of yours will have to disappear.
You must regard the will of God superior to your own,
Remove the idols that you have, let God be God alone.

Don't use Him as a Sunday crutch, don't serve Him just one hour,
For every weekday too is His, He claims it through His power.
But God will not distort your plans, you must come willingly;
He'll never press a soul to change, you have to hear His plea.

Commit your way unto the Lord, He calls, He waits, He hears;
There is no sin He can't erase amid this vale of tears.
When you are willing to obey, the past is cast aside,
The slate is cleaned by Jesus' blood, no sinner is denied.

When wholly cleansed, completely clean, no errors to confess,
Then Jesus says, "Come serve with Me and watch how I will bless."
Complete denial of worldly lusts, a willingness to go;
Committed to the cause of Christ, His strength He will bestow.

You have no power of your own, but through Him you'll acquire,
The faith that brings you to your knees, refined as if by fire.
A vessel for the Master's use, a tool within His hand;
You are equipped to serve Him well, on any foreign land.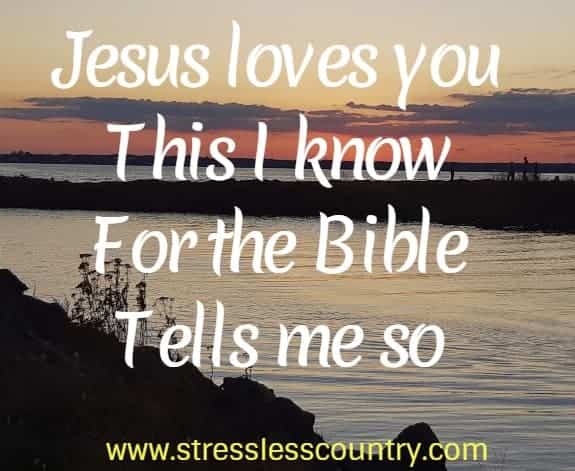 How Big Is The Basket?
Greta Zwaan, © 2018

"Mommy, can you tell me how big the basket is?
Daddy said to ask you, that you could answer this."
"I don't quite understand dear, which basket do you mean?
There are big and little baskets and others in between."

"No, no, the basket Jesus carries that holds our family's prayers.
Where we put all our problems, the ones that Jesus shares.
He said we shouldn't worry, but tell Him how we feel;
And then He tells His daddy, Mommy, is that real?

He needs to have a basket 'cause we all pray a lot.
Remember? Daddy read that the Bible says we ought.
He calls it heavy burdens, but can He take them all?
And carry them to heaven? Our prayers are never small!

So what size is His basket, does He have more than one?
Do angels help to carry the prayers that we get done?

Tomorrow we'll have new ones, for gramps and Uncle Jack.
You know Mommy, he's so lonely, he really wants him back.
Grandpa says God knows that so why won't he come home?
Did God not get his basket, is that why he's alone?

And poor old Mrs. Smithers can barely get around,
Did angels lose her baskets and her prayers can't be found?
Poor Jesus, He's so busy, so many prayers all day,
Can we buy Him a basket to carry prayers away?
And what size of a basket would hold the prayers we make?
We can't make it too heavy; too much for Him to take.
Mommy, I want to help Him, He's busy as can be;
I'd like Him to have free time and have fun just like me.

So Mommy, just one basket that angels could help lift.
I think it would help Jesus; could we buy Him that gift?
I think 'twould make Him happy; He should be happy too,
Because He's terribly busy, that's something we could do."


Follow Jesus
Take up thy cross, the Saviour said,
If thou wouldst My disciple be;
Deny thyself, the world forsake,
And humbly follow after Me. . . .
Be inspired by these poems and quotes Follow Jesus


Journey With Jesus
T'was five fish burgers he carried as he dashed to the top of the hill;
His mother had packed him a basket, his appetite to fulfill.
He was young, he was strong, he was healthy; he was eager to follow the crowd,
He had heard of this fellow called "Jesus" and how hearts were swayed, hearts were bowed. . . .
Browse poems and be encouraged by Journey With Jesus







More Christian Poems




You May Also Like
God Has A Plan

Christain Poems

Spiritual Poems

Spiritual Awakening

We hope these poems about Jesus inspire you and strenthen your faith in Him. Share these poems with others.



Short Poems | Poems | Quotes | About Us | Contact Us |