Poems About God
Be inspired by these poems about God. Verses that discuss God and His presence.

Share these poems with anyone who may have doubts or is questioning the fact that there is a God.

If we allow it and if we have faith, God does come through, we just need to believe and trust in God's timing. May these poems give you hope and encouragement.

We hope you enjoy these christian poems about God.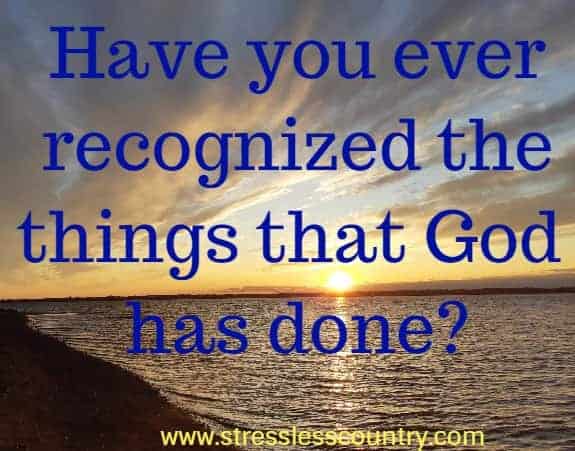 The Things God Has Done
Greta Zwaan, © 2003

Have you ever recognized the things that God has done?
Did you check the record of that great and Holy One?
Have you read the Scriptures? Have you had a real good look?
If you seek for confirmation, you will find it in God's Book.

But there are other places where the hand of God is shown,
There are joys beyond all measure, from His mercy, from His throne.
When you rise in early morning, feel the dew upon your face,
And the singing of the robins, can you sense, this is God's grace?

In the peaceful, quiet hour, while the world is still asleep,
Can you feel His holy presence, can you sense His love so deep?
When you see a tiny baby, when you hold him in your arms,
And you're mesmerized; he's perfect! You are smitten by his charms.

Would you think it's evolution that produced this human being?
That his parts just came together, not God's power you are seeing?
In God's Book these words are written - He created all mankind;
Through the eyes of faith believe it; don't let Satan make you blind.

God is holy; He's unsullied; sin could never taint or blight;
God, the same today, forever, He's the great eternal Light.
Let not earthly things persuade you, for this life some day will end.
Get instructions from the Bible, for man's laws and God's won't blend.

God requires that man be holy, setting standards as a guide;
Yet our hearts will not acknowledge that we're more enticed by pride.
If we'll contemplate our future, that our time's not in our hands,
We would look again at Jesus, be persuaded by His plans.

From the sinful fall of Adam and the scarring of his soul;
God announced He'd send a Saviour; even yet, God's in control.
Be ye ready for His coming, for one day He will return;
At a time when least expected, Christ, the One that now we spurn.

God is sovereign, God is holy, what He says, that will He do;
As you study through the Scriptures, let His message speak to you.
Take to heart what God has written as He used the pen of man;
Moved them with the breath of heaven as they wrote salvation's plan.

In the peaceful, quiet moments that you set aside to read,
It will bring complete instruction; it will guide if you but heed.
Let the Bible guide you daily and the blessings will abound,
For there is no greater treasure! It's God's grace that you have found!







Is There A God?
Greta Zwaan, © 2018

If God made the universe, and folks say that is true,
If God created everything, including me and you,
If God is wise and knows all things because He has the power,
If He's aware of world events each day and every hour,

If God can see the world at large, the carnage man has done:
Destroying what is beautiful and calling destruction fun;
Murdering unborn children because they'll wreck their plans,
And wanting their education, having their own demands,

If God can be an honest God and let these things go by,
No wonder people are aghast and say, "God doesn't even try.
He actually isn't even there; He's just a Christian's crutch.
Their stories are all fables; they're really out of touch!"

But why blame God for what man does? Man has the will to choose.
If self is left in full control he's guaranteed to lose.
God is not pleased with what man does and time will prove He heard,
The cries of those in agony, God listened to each word.

The time of reckoning is at hand, the criminal will pay,
All mercy will be set aside on God's own judgment day.
The history of man's evil deeds will come before the light,
No earthly sanctions will be found, no place to hide in fright.

A lifelong time rejecting God will finally see its end,
You'll stand alone to face your fate with no one who'll befriend.
Yes! There's a God, He is alive! His plea to you is real,
While there's still time to save your soul, reply to His appeal.

Don't let your pride stand in your way or shame be your downfall,
Instead, release yourself to God; be still and hear His call.



Walk With God
Poet: Edgar Daniel Kramer

When folks say that I walk alone,
With pity in their eyes,
I ever stand and stare at them
In wondering surprise,
Because they are too blind to see
That in each breathing clod,
In sun and ran in grass and trees,
I ever walk with God.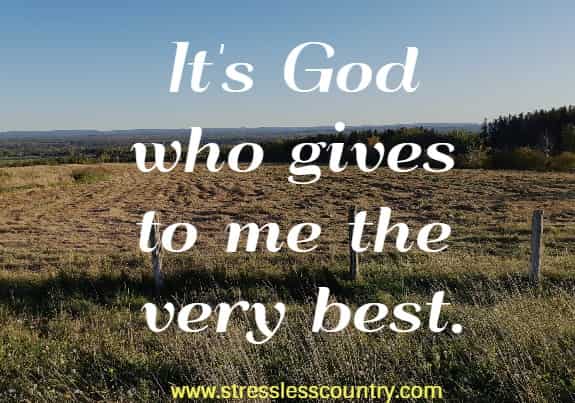 The Glory That Is God
John McLeod, © 1982

It's the kind word softly spoken
And the friendly laughter heard,
It's the smile of proffred friendship
And the heavy burden shared,
It's the gently hand that guides us
As each weary mile we plod,
It's the splendor of His giving
And the glory that is God!



Sunrise
Poet: Greta Zwaan, © 2018

The sun begins to scatter the clouds that claimed the night,
The glowing lights of colour make darkness take its flight.
At first there's but a glimmer as colour finds its way
And then great bursts of sunshine announce a brand-new day.

The harmony of colours dance in the morning mist,
They're orange, they're red, they're yellow; what colours they enlist!
They touch and mould together, they snap as they join hands,
The music is ethereal and then they break their bands.

And still they dance in union, together then apart,
The colours blend and scatter – a heavenly work of art.
I almost hear their laughter; I almost hear them say:
"God's made a brand-new morning; wake up, enjoy the day!

You've seen a bit of glory; you've seen the rising sun;
We've barely scratched the surface, our story's just begun.
God's majesty and power has colour without end,
Like morning's brilliant glory their wonders move and blend."

Each sunrise is new with splendour, each programme so well planned;
Each day holds forth its promise of life throughout the land.
When God displays His glory, when sunshine shows its face;
Rejoice and dance like sunbeams that evening clouds erase.




More Christian Poems




You May Also Like





We hope you have found comforting and hopeful words in these poems. We encourage you to share the poems with others.



Short Poems | Poems | Quotes | About Us | Contact Us |