Good Morning Poems
Use the verses in these Good Morning poems to share with others to wish them a good morning.

Starting your day out on a positive note can make the difference between a good day or a bad day. And first thing in the morning usually determines the type of day we will have.

Reading good morning poems can give you the thoughts that you may just need to keep your mind and your attitude positive for the upcoming hours.

Time To Start The Day
Poet: Catherine Pulsifer, © 2014

It's time to start your day,
Wake up and get on the move.
Sleeping in is nice,
But you've got lots to prove.

You'll prove to yourself,
That anything is in your grip.
All it takes is hard work,
With yourself as the whip.

Anything you want to do,
Understand it can be done.
As long as you stop wasting,
The day that has just begun.

So wake up and rise and shine,
This day is just for you.
I can't wait to see,
What it is that you will do!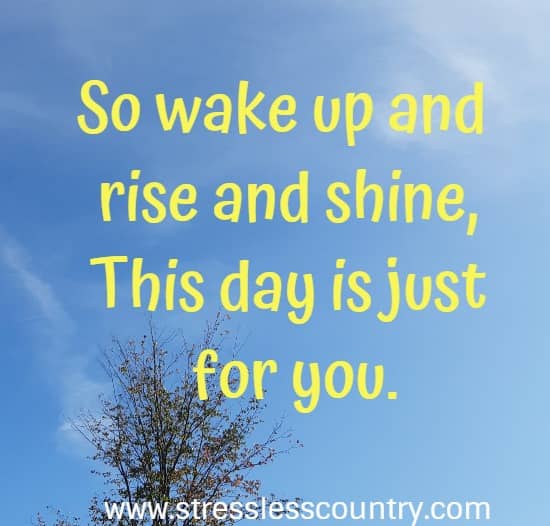 So wake up and rise and shine, this day is just for you.


A Good Morning To You
Poet: Catherine Pulsifer, ©2019

A good morning to you
Be the best at what you do.

Get up and give thanks
You get to fill in the blanks.

Today is a gift given to you
Do not spend it being blue.

You see, the world reflects
The attitude you project.

Stay positive and upbeat
The day is yours to complete.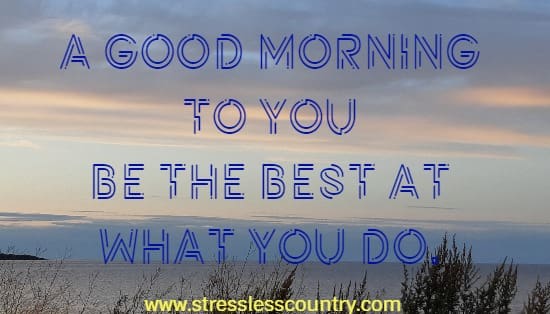 A good morning to you, be the best at what you do.


Good Morning My Love
Poet: Samatha Lynch, ©2019

Every day with you means so much
I love you and your touch
Your loving ways I do adore
Your kindness makes my heart soar.

When I wake up and see you there
I feel like I can do anything I dare
You light up my life more than you can imagine
I jump out of bed and spring into action.

Good morning my love
I thank the good Lord above
For the blessing of a life with you
Have a great morning in all that you do.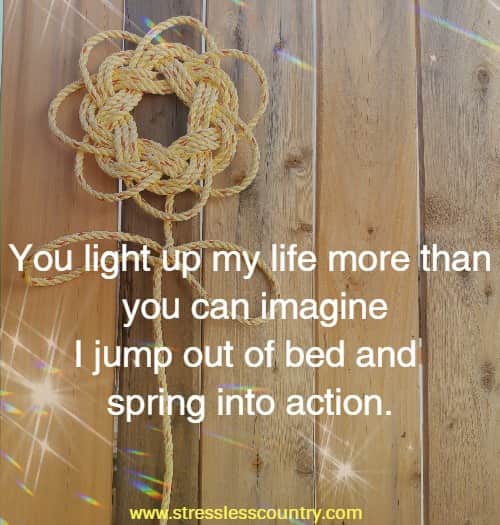 You light up my life more than you can imagine. I jump out of bed and spring into action.



Good Morning Sayings and Quotes:

Good Morning, God bless,
May your day be filled with happiness.
Good Morning Quotes


Good Morning Sunshine
See you at supper when we dine.
Cute


Good Morning, have a nice day
Work hard and leave time so you can play.
Work


Good Morning this day is one
To get up and get lots done.
Short Quotes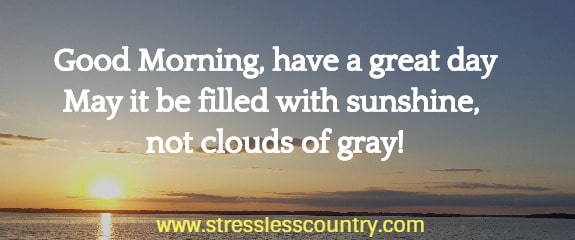 Good Morning, have a great day
May it be filled with sunshine, not clouds of gray!
Positive Poems


I will treasure this day, for it is all I have. I know that its rushing hours cannot be accumulated or stored, like precious grain, for future use.
Og Mandino, Mission: Success!
Inspirational Poems


There is something very special about the first few hours of the morning. Time seems to slow down and a deep sense of peace fills the air.
Robin Sharma, Who Will Cry When You Die?
Time


If you lack motivation or momentum, time will steal your life away, one day at a time.
Donald S. Neviaser, The Inner View
Motivational Poems


A grand morning is not for the weak at heart, it is for the joyous at heart.
Kate Summers
Inspirational


It was character that got us out of bed, commitment that moved us into action, and discipline that enabled us to follow through.
Zig Ziglar
Graduation Poems


You May Also Like:
Poems of Encouragement

Smile Poem

Life Quotes


We hope these good morning poems were ones that provided you with inspiring and positive thoughts for your morning. Share these with others who could use an uplifting message to start their day!

There are those people who hate the mornings, share these poems and quotes with them and then there are people who actually call themselves morning people, also share the verses here with them, they will appreciate the poems!


Short Poems and Quotes | Poems | Quotes | About Us | Contact Us |