God Has A Plan
Never doubt that God has a plan, and as the saying goes, it's all good! No matter who we are; no matter where we are in the path of life, God is always unfolding His master plan. Sometimes, though, it seems that God may have forgotten us but never fear He is forever by our side walking with us through every tribulation that comes our way.
Be not dismayed through the vagaries of life, those sometimes valleys of pain and sorrow, that our gracious God sees all things, is everywhere, and casts His will all through His masterful creation. Nevertheless, we must respond to His grace with open and full faith and trust regardless of what circumstances in which we stand.
God's Plan
Poet: Greta Zwaan, © 2009


I sat alone in the darkness, feeling the weight of my pain,
Bemoaning the stress of my illness – will I ever be healthy again?
How long will this ordeal possess me? How long must I travel this road?
While others around me are happy, I struggle to carry this load.

Perhaps you think I'm complaining that I've been dealt a hard deal,
Compared with folks all around me, sometimes that's just how I feel.
There's much I'd still like to offer, so many things I could do,
But I'm stuck in this valley of illness, of so little value to You.

If I could but fathom the reason, if somehow I knew what's at hand,
My heart would feel a bit lighter, if only I could understand.
Knowing, I'd probably accept this, searching to find strength somehow,
But, walking alone in this darkness, there's no one to comfort me now.

My child, I sit here beside you, your burdens I equally share;
When night falls and you are so lonely, remember that I am still there.
I'd gladly remove all these trials, I'd gladly remove all your pain,
But now, being tried as by fire, you are the one who will gain.

Compassion and patience will triumph, you'll find new insights in life,
The smell of the roses will charm you when through with your illness and strife.
Oh yes, there'll be a tomorrow, you'll look back and one day you'll see,
The learning process was worth it – it drew you closer to Me.

On the whole, you're always so busy, I just had to set you aside,
You needed time to consider, a time to sit and abide.
Take your eyes off your problems, rest in the peace I supply,
Be assured that I love you; all will be well by and by.



God Has A Plan
Poet: Greta Zwaan, © 2008


God's hands have an inscription, carved with indelible ink,
An eternal, lifelong reminder of a loving, incredible link.
With His hands He brought forth creation, drawing lines between land and sea,
Filling the earth with flowers and every imaginable tree.

Grasses of every description, birds that would trill out in song,
Animals that were companions; contented, they all got along.
Then came the final, grand moment - from the dust God created man,
To tend the herbs from the garden, fulfilling this marvelous plan.

Just to make everything perfect, God made a companion:
He formed a helpmate for Adam, a woman.
Together they had all they needed, there was nothing their hearts could request;
They were placed in a perfect surrounding, they were richly and most wonderfully blessed.

God even walked in the garden, communing with them face to face;
Man, made in God's own image, dwelling there in amazing grace.
There was nothing man could desire, all of his needs had been met,
The crowning touch of creation, everything perfect … and yet;

Man took a lusting for wisdom, Satan was quick to respond,
With lies he presented an offer, with lies he severed the bond.
The prefect union was broken, Satan accomplished his goal,
Man stood at odds with God's promise; man no longer was whole.

Banished from all that was perfect, now he must struggle alone,
Satan would only confuse him, trying to make him his own.
The struggle for man is continual, Satan's devices are shrewd,
But God is a God of great mercy; the hope of man is renewed.

God sent the means of salvation - His Son bore the grief of mankind,
The guilt was removed at Golgotha, where mercy and love were entwined.
This world is no longer perfect, humanity struggles till death,
Yet there is a wonderful future when man finally breathes his last breath.

If he has surrendered to Jesus, acknowledged He's in control,
Then God will renew the transaction, and man will be blessed in his soul.




Blood On My Door
Poet: Greta Zwaan, © 2017


There's blood on my door; my sin is no more;
Amazing! For my deep, dark past.
Nobody knew what I have gone through;
But I know, and I'm free at last!

Wonderful thought, my freedom was bought;
My future is bright and secure.
I struggled, I fought; it all came to 'naught,
Twas all I could do to endure.

But God saw my plight while trying to fight,
My efforts to set myself free;
My feeble attempt could never exempt -
My tally was too great for me.

For sin takes its toll, it darkens the soul;
It ends up in heartache and pain.
I worked to be free, but never could see
Till I received mercy again.

But God had a plan - salvation for man
Brought forth before eons of time.
I could not win my fight against sin;
It seemed like a sentence for crime.

Then God saved my soul,
Made me every whit whole;
Eternity settled it all.
I had to believe, then simply receive;
I heard, then I answered the call.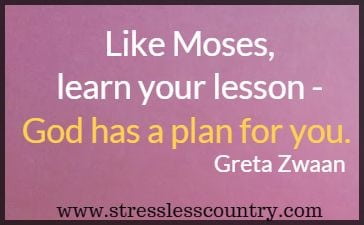 Lessons for Moses
Poet: Greta Zwaan, © 2009


It took God forty years to shape a grown man,
He did not compromise His work, and altered not His plan.
The vessel that He planned to change had known wealth and power,
Sequestered in the wilderness, relied on God each hour.

The choices that were once his own no longer held their sway,
T'was God who held the upper hand and He would have His way.
He knew he'd come full circle from poverty to fame,
From floating in a basket to having royal claim.

A cradle in the water to a bed of feathery ease,
From the muddy Nile River to servants at his knees.
Then forced into the desert because of violent crime,
Alone, almost deserted, with nothing left but time.

Reduced to a mere mortal, no slaves at his command,
The big, blue sky above him, his feet on desert sand.
With God his lone companion, with sheep that he must tend,
No luxuries that pampered, no boisterous royal friend.

Twas there God taught him patience to hear His loving voice,
Twas there God gave instructions, 'twas there he made his choice.
In fear and trepidation, no longer filled with pride,
Accepted his assignment, with only God as his guide.

His wandering days were over, God's people must be freed,
The Egyptian rule was over - that's what God had decreed.
The obstacles were many, the challenges severe,
But faith brought strong persistence and helped destroy the fear.

Eventually they conquered, the Jews were finally free,
Moses, God and Aaron would claim the victory!

Obedience is the answer, God settles for no less,
The road may not be easy, the journey filled with stress.
But always He's the victor, endurance is the clue:
Like Moses, learn your lesson - God has a plan for you.




Stop It!
Poet: Greta Zwaan, © 1997


Stop it! Stop it! You're heading in the wrong direction!
Feel the wind of God – it offers true protection.
Not a force like hurricanes, nor to fill with terror,
No tornado-power assault striking fear and peril.

This calm wind, a soft, cool breeze gently tugs at heart strings,
Power, silent, great effect, filling, moves to change things.
It can't be seen, it can't be heard, but feel its mighty power:
Drawing, moving, swaying souls, lifting lives once dour.

Those who fear to speak to man of God's love and kindness,
Filled now with this awesome gift, look back at their blindness.
The Holy Spirit, this gentle wind – kind and yet persuasive,
Holds the power to change lives, tender yet invasive.

Not with pressure to conform, just a strong incentive,
That decisions made today might make one repentive.
Lives are changed when hearts are moved and control surrendered,
Pressure lifted, peace descends, God's grace has been rendered.

Not by force or by command, but in a heart that's weary,
Longing for a slower pace, plus a life more cheery.
God will intervene with love, make some major changes;
So remarkable, the life that God rearranges.

Let the Spirit fill your soul, let your heart be lifted,
God has granted you new life; oh, such joy you're gifted.
New beginning, new approach, peace will now surround you;
Oh, how wonderful the change, it surely will astound you!



Gods Plan Quotes
God's plans, like lilies pure and white, unfold; we must not tear the close-shut leaves apart; time will reveal the calyxes of gold.
May Riley Smith
Christian Poems



Although societal attitudes are changing about marriage and the transition to adulthood, the Lord's prophets have always emphasized the importance of marriage according to God's plan.
Alan J. Hawkins, Successful Marriages and Families
Attitude Quotes



Many times, God in His mercy reaches out to us, gives us gifts, grants us favors, and does all kinds of things for us that we do not deserve, starting with His whole plan of redemption.
Russell M. Stendal, God's Plan for Spiritual Battle
Poems About God



It's in going after God's plan for our lives on His terms that we would not only reveal his glory, but also experience perfect peace and be a blessing to others.
Akin Emmanuel, After the Passion
Experience Quotes



This year, instead of spending valuable energy pursuing New Year's resolutions that will most likely be abandoned by January's end, let's invest our precious time pursuing God's plans and priorities for our lives!
Ramona Vincent
New Year Quotes
You May Also Like
Spiritual Awakening
Spiritual Poems
Poems About Jesus
Thanksgiving Blessings and Prayers
More Poems to Encourage and Inspire
Short Poems and Quotes
|
Poems
|
Quotes
|
About Us
|
Contact Us
|