God Is In Control
Never doubt that God is in control. There are times especially looking at world events we think God has forgotten about us, however God is in control and He has a plan. Be encouraged and reminded that God is with each one of us and He is in control by the poem and quotes here.
How Does One Know?
Greta Zwaan, ©2010

How does one know what lies in store?
Can we prepare for tomorrow?
When our life's plans are altered and chaos descends,
Are we deluged by pity and sorrow?

Do we take things in stride as each day appears?
Do we patiently strive to keep hoping?
Do we trust in the fact that God's in control,
And He's capable of more than just coping?

He understands the valley I'm in,
He knows the trials I am bearing.
He sees the tears that freely flow,
It seems it's all so despairing.

Why does God allow such things,
Why doesn't He assist me?
Why turn His back when I have such needs,
And He constantly resists me?

Whatever lessons I must learn,
Whatever task is assigned me,
Keep my eyes stayed on Your love,
Hold me tight; remind me:

That in the dark, bleak days I'll know,
You are there, beside me,
No power on earth can change that fact,
My God! I know You'll guide me.


Sounds of Silence
Poet: Greta Zwaan, © 2018

The whispers of the wind speak a language,
The soft touch of love on my face,
The fragrance of lilacs it brings me
Has caused me to reverence this place.

It's called my oasis of silence,
The birds sing their sweet songs of praise,
They toil, yet their voices are ringing
With melodies humans can't raise.

To me they speak wonders of silence,
They drown out a world full of cares,
Refreshing my soul with their beauty,
Like God sending answers to prayers.

The trees cast a shade from the sunshine
Yet rays from its warmth still appear,
The bees search for nectar in flowers
As blossom by blossom they clear.

These heavenly sounds that surround me,
The silence they bring to my soul,
Is where I can leave all my burdens
They tell me, God's still in control.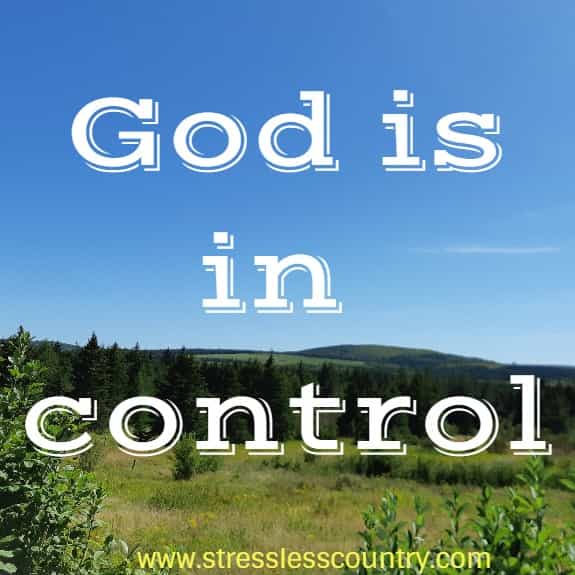 God Is In Control Quotes
God wants to make us big enough to admire Him with wonder and delight.
A. W. Tozer
Short Quotes



If we want to understand God's goodness in His gifts, then we must think of them as a responsibility we bear for our brothers.
Dietrich Bonhoeffer
God Has A Plan



The martyrs teach us that wealth, prestige and honour have little importance; Christ is the only treasure.
Pope Francis
Poems About Jesus



Instead of running to God as an afterthought, we can start with Him. We are His creation and He knows what we need.
Dr. David Jeremiah
Trust In God



I pray that we as Christians never lose our conviction that God does change lives!
T.D. Jakes
Christian Poems



God loves you just the way you are, but He loves us too much to leave us that way.
Nicky Gumbel
Spiritual Poems
You May Also Like
Journey of Faith
Gods Blessings
The Promises of God
Poems About Hope
More Poems About God to Encourage and Inspire
Short Poems
|
Poems
|
Quotes
|
About Us
|
Contact Us
|