6 Yuletide Poems
We have all experienced a joyful yuletide! Nixon Waterman's poem, Joyful Yuletide, expresses happy thoughts of Christmas and how people are of good cheer during this wonderful season. Plus enjoy the other Yuletide poems here.
Christmas Poems
   /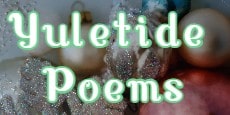 A Yule-Tide Song
Poet: Unknown

Now Christmas is come,
Let us beat up the drum,
And call all our neighbors together.
And when they appear.
Let us make them good cheer,
As will keep out the wind and the weather.




Christmas Wishes To A Friend



The Coming Of Christmas
Poet: Lady Lindsay

Christmas is a-drawing near,
Christmas-tide and Christmas cheer,
Merry wassail, merry song.
Joyous dance and roundelay -
All that doth to Yule belong.
Yet unto my soul I say,
"Thou that slumberest, wake and pray."

Christmas is a-nearing quite,
Time of feast and full delight.
Pleasant pomp and allegresse,
Harp and viol's music gay.
Jewelled tokens, gaudy dress.
Yet unto my soul I say,
"Thou that slumberest, wake and pray."

Christmas - Sheahan - Fifteen
Christmas is a-chiming soon,
Bringing Love for choicest boon,
Pensioners to sit in hall,
Comrades, friends of many a day,
Greeting fair from great and small.
Yet unto my soul I say,
"Thou that slumberest, wake and pray."



  
Christmas Messages



Celebrate
Poet: Catherine Pulsifer

We celebrate the yuletide season
Always remembering Jesus is the reason.
A time of year full of goodwill and cheer
A time to spend with friends and family, dear.

The world becomes a different place
Full of mercy and full of grace.
If we could keep those feelings all year long
The world would be less wrong.




more Christmas Quotes



Within And Without
Poet: James Russell Lowell

Within the hall are song and laughter,
The cheeks of Christmas glow red and jolly,
And sprouting is every corbel and rafter
With lightsome green of ivy and holly;
Through the deep gulf of the chimney wide
Wallows the Yule-log's roaring hide;
The broad flame-pennons droop and flap
And belly and tug as a flag in the wind;
Like a locust shrills the imprisoned sap,
Hunted to death in its galleries blind;
And swift little troops of silent sparks,
Now pausing, now scattering away as in fear,
Go threading the soot-forest's tangled darks
Like herds of startled deer.

But the wind without was eager and sharp.
Of Sir Launfal's gray hair it makes a harp,
And rattles and wrings
The icy strings,
Singing, in dreary monotone,
A Christmas carol of its own.
Whose burden still, as he might guess.
Was - "Shelterless, shelterless, shelterless!"
The voice of the seneschal flared like a torch
As he shouted the wanderer away from the porch,
And he sat in the gateway and saw all night
The great hall-fire, so cheery and bold,
Through the window-slits of the castle old,
Build out its piers of ruddy light
Against the drift of the cold.




Christmas Carol Poems



Joyful Yuletide
Poet: Nixon Waterman

The joyful Yuletide now is here,
The gladdest time of the year,
When all the world is full of cheer
And hearts grow young again;
The merry Christmas bells are ringing,
And happy voices all are singing,
"Goodwill, goodwill to men."

Though wintry winds may moan without,
The cheerful hearthstone about,
We greet our friends with laugh and shout
This joyful Christmas day,
Beneath the mistletoe and holly,
Our songs and games are all so jolly.
And ev'ry heart is gay.




Christmas Bells Poems



Welcome Yule
Poet: Unknown

Welcome be thou, heaven-king,
Welcome bom in one morning,
Welcome for whom we shall sing,
Welcome Yule.

Welcome be ye, Stephen and John,
Welcome Innocents every one,
Welcome Thomas Martyr one,
Welcome Yule.

Welcome be ye, good New Year,
Welcome Twelfth Day, both in fere,
Welcome saintes lef and dear,
Welcome Yule.

Welcome be ye, Candlemas,
Welcome be ye, Queen of Bliss,
Welcome both to more and less,
Welcome Yule.

Welcome be ye that are here,
Welcome all and make good cheer;
Welcome all, another year,
Welcome Yule.
More Christmas Poems
Related Poems & Quotes: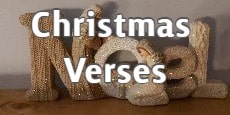 Christmas Verses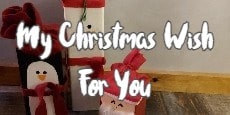 My Christmas Wish For You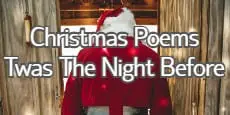 Christmas Poems Twas The Night Before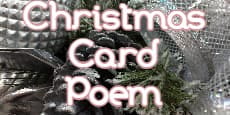 Christmas Card Poem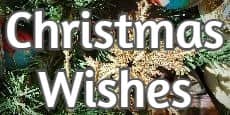 Christmas Wishes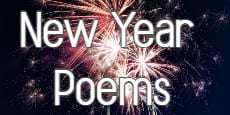 New Year Poems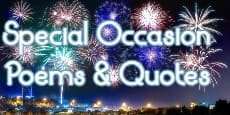 Special Occasion
Featured Famous Poets:

Catherine Pulsifer

Nixon Waterman


More Famous Poems

Short Poems & Quotes
    |    
About Us
    |    
Contact Us