37 Improvement Quotes
Improvement quotes demonstrate the various elements within the broad definition of improvement. This may mean, for example, that one is engaged in personal growth, is advancing in their chosen career, is in the process of gaining a new skill or has enhanced their current level of abilities.
Part of the improvement cycle is self-discipline; alongside with this attribute is perseverance and an understanding that not every step leads to the final accomplishment. It can be argued that improvement is not an end in itself but is in fact a process that is on-going.
We hope these improvement quotes encourage and inspire you to continue your development in all areas of your life.
Quotes
   /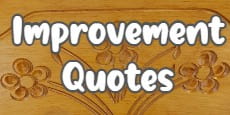 More Quotes to Motivate, Encourage, and Inspire
Short Poems & Quotes
    |  
About Us
    |  
Contact Us