56 Leadership Quotes
Be inspired by these leadership quotes that identify qualities and characteristics of a good leader. Leadership is not about holding a title, or the person who occupies the corner office - it is about the ability, courage, and vision to assist , help, point, and encourage others to offer the best of their abilities in concert with enthusiasm each and every day of the week.
The following quotes, sayings, and leadership concepts highlight an abundant number of qualities that we, as leaders, should strive to emulate.
Quotes
   /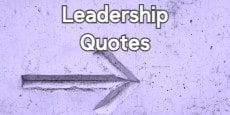 More Quotes for Encouragement and Motivation
Short Poems & Quotes
    |  
About Us
    |  
Contact Us