Is There Really A Santa
The question is there really a Santa, is a one which is asked by many children. But what about the adults, do you believe in the jolly old man? Consider the poems and quotes before you answer the question.

Many say believing in Santa brings magic to Christmas. And others say only children believe in Santa. But, we know that there are many adults who also believe that jolly old St. Nicholas does exist. May these poems give them thoughts to think about.


Is There Really A Santa
Poet: Catherine Pulsifer, ©2011

The holiday season is coming,
The music and decorations give it away,
I do love to see that it's upon us,
I can't wait to see Santa's Sleigh.

I know that I'm not a child,
But I can't help to wonder the truth,
Is Santa really among us?
The answer would be yes among the youth.

The thought of him and his reindeer,
Flying through the night sky,
Makes me feel as if I saw the twinkle,
Coming from Santa's right eye.

So what if I'm an adult,
Adults can believe in Santa too.
I've decided that no matter what happens,
I will always believe that Santa's true!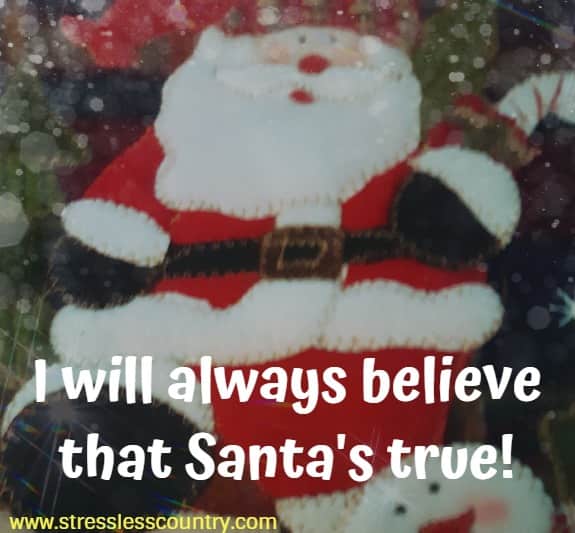 Santa Exists
Poet: Catherine Pulsifer, ©2018

If Santa Claus did not exist
Think of the excitement the children would miss
December would be a month of gloom
Nothing to look forward only doom.

God created everything
He knew the happiness Santa would bring
The joy in the faces of girls and boys
When the tree is full of lots of toys.

The blessing you see
Is that you can be
A Santa to those in need
And you will be blessed indeed.

Santa brings magic for all
Doesn't matter whether you're big or small
A time to share and give
Generosity is a great way to live!


More Christmas Poems



Santa Claus Quotes

God put Santa Claus on earth to remind us that Christmas is 'sposed to be a happy time.
Bil Keane, Jeffy's Lookin' at Me
Happiness Quotes


Not believe in Santa Claus! You might as well not believe in fairies!
Francis P. Church
Believe Quotes


You know you're getting old when Santa starts looking younger.
Robert Paul
Cute Quotes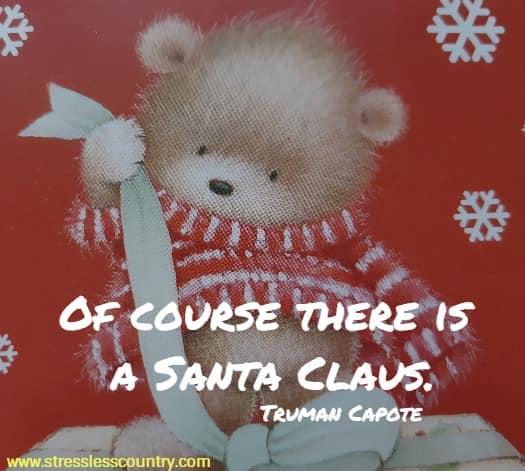 Of course there is a Santa Claus. It's just that no single somebody could do all he has to do. So the Lord has spread the task among us all. That's why everybody is Santa Claus. I am. You are.
Truman Capote, One Christmas
Poems About God


So you say there is no Father Christmas,
You say there is no Santa Claus
Reindeer cannot fly,
it's all a grown-up lie...
M.C. Frank, No Ordinary Star
Poems About Life

You May Also Like:
Christmas Messages

Christmas Verses

New Years Quotes

Is Santa only for kids? My answer is no, what keeps Santa alive is the magic of believing. Santa you see is not just the man himself, nor the reindeers, but the spirit of him. And like everything else you either believe or you don't. So this Christmas be like the child who is so excited, let the joy, love, generosity, and happiness of the season be within you! We hope these poems about Santa Claus restores your faith in him. Share these poems with others especially if they don't believe!


More Christmas Poems to Share

Short Poems | Poems | Quotes | About Us | Contact Us |