6 Inspirational Poems For The New Year
Poems that will inspire you to look forward to the new year with excitement and expectation. A New Year that can be filled with all that you wish for. We hope these inspirational poems inspire and motivate you.

New Year Poems    /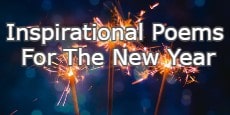 Let The New Year Be
Poet: Unknown

Let the New Year be to you
As a childish playmate new,
Stealing suddenly among
Apple-boughs that overhung.

Greet him half in confidence,
Half as ready for defence!
Is he come to tease or play?
Will he give or take away?

Let him come as friend or foe!
No New Year can overthrow
This our friendship that has grown
From the years that now are flown




New Year Quotes


An inspirational poem that reminds us none of us can see what the future holds. But trusting in God will see us through any situation.


Look To The Future
Poet: J. S. Ogilvie

We cannot look into the future,
We cannot tell if the New Year,
Will bring us fresh sorrows to mourn o'er,
Or bring us new blessings to cheer.

But an all-seeing God is above us,
Who knows what for each one is best,
Who in this world will care for and love us,
And bring us at last to our rest.




Christian Poems For The New Year


One year ends another begins. In this inspirational poem, John Imrie describes feelings we have as one year finishes and we look forward to the New Year. We say goodbye to a year gone by, some of us are happy to see the year end, and others are sad to see another year gone. John talks about the seasons and how they come and go, with happiness and sorrow.  And with the new year coming we always hope that we have become wiser by learning from past lessons. To summarize, in John Imrie's poem there is hope in a New Year, hope for a good year!  


The Old Year And The New
Poet: John Imrie

Listen to the midnight bell,
Tolling out the old year's knell,
O'er our hearts there comes a spell
Such as when we say — ''Farewell!"
As we ponder o'er the past.
Eyes are dim and overcast,
Silent falls full many a tear
As we part with thee — Old Year!

Seasons come and seasons go,
Summer's flowers and Winter's snow,
Like the ocean's ebb and flow, —
Joy and pain, and weal and woe!
Birthday greetings — glad and gay-
Wedded hearts were linked for aye,
Not a churchyard but a mound
Tells what reaper Death has found.

Yet we welcome thee, New Year,
And approach thee without fear,
Though we know not what may be
Portion'd out for us in thee;
Let us hope, and watch, and pray,
Growing wiser day by day;
Learning lessons from the past,
As this year may be our last!

Though the Old Year now must go,
Shrouded in a sheet of snow!
May the snow an emblem be
Of the New Year's purity!
As our footsteps in the snow
Show the path we wish to go,
May each day our record be —
Coming nearer, God, to Thee!




Famous New Year Poems


The inspirational poem below is great to send to someone you have been thinking about but are unable to see.


At The End Of The Year
Poet: Agnes Davenport Bond

I cannot let the old year die
Without a thought of you
Without a wish for Christmas joys,
And New Year Blessings too.

It is a time when all the world
Seems like a joyous choir,
That reaches out to spread good will,
And wakens with desire.

It is a time when friends and kin
Meet round a common board,
To share the love and fellowship
That happy days afford.

And now my warmest wishes go
To loved ones and to friends
That peace and joy be in your hearts
And love that never ends.




New Years Blessings


Moving forward means leaving the past in the past. Let this inspirational poem be one that reminds you that your attitude plays an important part in your success and how your year will play out.


Forgive The Past, Live The Future
Poet: Catherine Pulsifer

Before us is a brand new year,
to live as we choose
Our attitude will determine
if we win or lose.

Leave the year behind with
its ups and downs,
Don't dwell on the
smiles and especially the frowns.

Look forward to a brand new year,
a year of a brand-new start
A year to achieve your goals
and life to take part.




A Golden Time
Poet: J. S. Ogilvie

O childhood is a golden time,
When all the world is bright,
When sunshine comes with every morn,
Sweet dreams with every night.

Were I a fairy, I would give
To thee a magic kiss,
That should ensure for the New Year,
As fair a time as this.
More New Year Poems to Start Your Year
Related Poems & Quotes: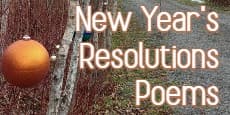 New Year's Resolutions Poems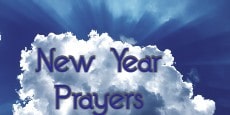 New Year Prayers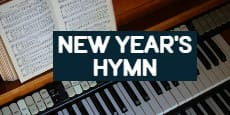 New Year's Hymns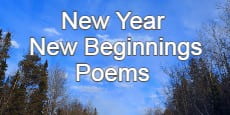 New Year New Beginnings Poems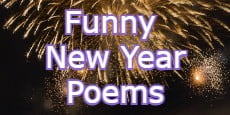 Funny New Year Poems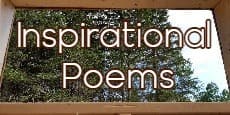 Inspirational Poems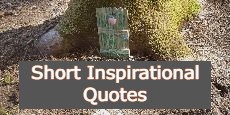 Short Inspirational Quotes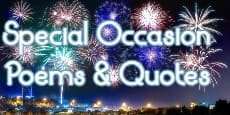 Special Occasion Poems & Quotes
Featured Famous Poets:

Catherine Pulsifer


John Imrie

More Famous Poems


Short Poems & Quotes    |   About Us    |   Contact Us