26 Henry VanDyke Poems
Short Poems & Quotes
   /  
Famous Poets
   /   Henry VanDyke Poems
Henry VanDyke has influenced and inspired many over the years with his poems. Born in Germantown, Pennsylvania on November 10, 1852 his work as an author, clergyman, and professor of English literature has made a positive difference in the lives of his students and people of all walks of life. He also contributed to the first Presbyterian printed liturgy, The Book of Common Worship of 1906, which has impacted thousands of people.
He died on April 10, 1933, but his work continues to live on and inspire people today. We hope the poems shown here to inspire you and add a positive thought to your day.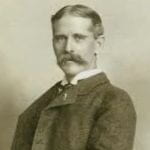 Henry VanDyke
Popular Short  Famous Poems by Henry VanDyke Poems:
Christmas Tears
Poet: Henry VanDyke

The day returns by which we date our years:
Day of the joy of giving,--that means love;
Day of the joy of living,--that means hope;
Day of the Royal Child,--and day that brings
To older hearts the gift of Christmas tears!

Look, how the candles twinkle through the tree,
The children shout when baby claps his hands,
The room is full of laughter and of song!
Your lips are smiling, dearest,--tell me why
Your eyes are brimming full of Christmas tears?

Was it a silent voice that joined the song?
A vanished face that glimmered once again
Among the happy circle round the tree?
Was it an unseen hand that touched your cheek
And brought the secret gift of Christmas tears?

Not dark and angry like the winter storm
Of selfish grief,--but full of starry gleams,
And soft and still that others may not weep,--
Dews of remembered happiness descend
To bless us with the gift of Christmas tears.

Ah, lose them not, dear heart,--life has no pearls
More pure than memories of joy love-shared.
See, while we count them one by one with prayer,
The Heavenly hope that lights the Christmas tree
Has made a rainbow in our Christmas tears!


More Christmas Poems




When Tulips Bloom
Poet: Henry VanDyke

When tulips bloom in Union Square,
And timid breaths of vernal air
Go wandering down the dusty town,
Like children lost in Vanity Fair;

When every long, unlovely row
Of westward houses stands aglow,
And leads the eyes to sunset skies
Beyond the hills where green trees grow;

Then weary seems the street parade,
And weary books, and weary trade:
I'm only wishing to go a-fishing;
For this the month of May was made.

I guess the pussy-willows now
Are creeping out on every bough
Along the brook; and robins look
For early worms behind the plough.

The thistle-birds have changed their dun,
For yellow coats, to match the sun;
And in the same array of flame
The Dandelion Show's begun.

The flocks of young anemones
Are dancing round the budding trees:
Who can help wishing to go a-fishing
In days as full of joy as these?

I think the meadow-lark's clear sound
Leaks upward slowly from the ground,
While on the wing the bluebirds ring
Their wedding-bells to woods around.

The flirting chewink calls his dear
Behind the bush; and very near,
Where water flows, where green grass grows,
Song-sparrows gently sing, "Good cheer."

And, best of all, through twilight's calm
The hermit-thrush repeats his psalm.
How much I'm wishing to go a-fishing
In days so sweet with music's balm!

'Tis not a proud desire of mine;
I ask for nothing superfine;
No heavy weight, no salmon great,
To break the record, or my line.

Only an idle little stream,
Whose amber waters softly gleam,
Where I may wade through woodland shade,
And cast the fly, and loaf, and dream:

Only a trout or two, to dart
From foaming pools, and try my art:
'Tis all I'm wishing--old-fashioned fishing,
And just a day on Nature's heart.


More Garden Poems




God's Sight
Poet: Henry VanDyke

Flowers rejoice when night is done,
Lift their heads to greet the sun;
Sweetest looks and odours raise,
In a silent hymn of praise.

So my heart would turn away
From the darkness to the day;
Lying open in God's sight
Like a flower in the light.


More Christian Poems




Thomas Bailey Aldrich
Poet: Henry VanDyke

There's many a reader whom your silver songs
And crystal stories cheer in loneliness.
What though the newer writers come in throngs?
You're sure to keep your charm of only-ness.

You do your work with careful, loving touch,
An artist to the very core of you,
You know the magic spell of "not-too-much ":
We read, and wish that there was more of you.

And more there is: for while we love your books
Because their subtle skill is part of you;
We love you better, for our friendship looks
Behind them to the human heart of you.


More Poems About Books




Love Is
Henry vanDyke

Love is not getting, but giving;
Not a wild dream of pleasure,
And a madness of desire -
Oh, no, love is not that, -
It is goodness and honor,
And peace and pure living -
Yes, love is that; and
It is the best thing in the world,
And the thing that lives longest.


What Is Love Poem




The Wind Of Sorrow
Poet: Henry VanDyke

The fire of love was burning, yet so low
That in the dark we scarce could see its rays,
And in the light of perfect-placid days
Nothing but smouldering embers dull and slow.
Vainly, for love's delight, we sought to throw
New pleasures on the pyre to make it blaze:
In life's calm air and tranquil-prosperous ways
We missed the radiant heat of long ago.

Then in the night, a night of sad alarms,
Bitter with pain and black with fog of fears,
That drove us trembling to each other's arms -
Across the gulf of darkness and salt tears,
Into life's calm the wind of sorrow came,
And fanned the fire of love to clearest flame.



More Short Love Poems




The After-Echo
Poet: Henry VanDyke

How long the echoes love to play
Around the shore of silence, as a wave
Retreating circles down the sand!
One after one, with sweet delay,
The mellow sounds that cliff and island gave,
Have lingered in the crescent bay,
Until, by lightest breezes fanned,
They float far off beyond the dying day
And leave it still as death.
But hark,--
Another singing breath
Comes from the edge of dark;
A note as clear and slow
As falls from some enchanted bell,
Or spirit, passing from the world below,
That whispers back, Farewell.

So in the heart,
When, fading slowly down the past,
Fond memories depart,
And each that leaves it seems the last;
Long after all the rest are flown,
Returns a solitary tone,--
The after-echo of departed years,--
And touches all the soul to tears.


More Nature Poems




The Parting And The Coming Guest
Poet: Henry VanDyke

Who watched the worn-out Winter die?
Who, peering through the window-pane
At nightfall, under sleet and rain
Saw the old graybeard totter by?
Who listened to his parting sigh,
The sobbing of his feeble breath,
His whispered colloquy with Death,
And when his all of life was done
Stood near to bid a last good-bye?
Of all his former friends not one
Saw the forsaken Winter die.

Who welcomed in the maiden Spring?
Who heard her footfall, swift and light
As fairy-dancing in the night?
Who guessed what happy dawn would bring
The flutter of her bluebird's wing,
The blossom of her mayflower-face
To brighten every shady place?
One morning, down the village street,
"Oh, here am I," we heard her sing,--
And none had been awake to greet
The coming of the maiden Spring.

But look, her violet eyes are wet
With bright, unfallen, dewy tears;
And in her song my fancy hears
A note of sorrow trembling yet.
Perhaps, beyond the town, she met
Old Winter as he limped away
To die forlorn, and let him lay
His weary head upon her knee,
And kissed his forehead with regret
For one so gray and lonely,--see,
Her eyes with tender tears are wet.

And so, by night, while we were all at rest,
I think the coming sped the parting guest.


More Poems About The Seasons




The Lily Of Yorrow
Poet: Henry VanDyke

Deep in the heart of the forest the lily of Yorrow is growing;
Blue is its cup as the sky, and with mystical odour o'erflowing;
Faintly it falls through the shadowy glades when the south wind is blowing.

Sweet are the primroses pale and the violets after a shower;
Sweet are the borders of pinks and the blossoming grapes on the bower;
Sweeter by far is the breath of that far-away woodland flower.

Searching and strange in its sweetness, it steals like a perfume enchanted
Under the arch of the forest, and all who perceive it are haunted,
Seeking and seeking for ever, till sight of the lily is granted.

Who can describe how it grows, with its chalice of lazuli leaning
Over a crystalline spring, where the ferns and the mosses are greening?
Who can imagine its beauty, or utter the depth of its meaning?

Calm of the journeying stars, and repose of the mountains olden,
Joy of the swift-running rivers, and glory of sunsets golden,
Secrets that cannot be told in the heart of the flower are holden.

Surely to see it is peace and the crown of a life-long endeavour;
Surely to pluck it is gladness,--but they who have found it can never
Tell of the gladness and peace: they are hid from our vision for ever.

'Twas but a moment ago that a comrade was walking near me:
Turning aside from the pathway he murmured a greeting to cheer me, -
Then he was lost in the shade, and I called but he did not hear me.

Why should I dream he is dead, and bewail him with passionate sorrow?
Surely I know there is gladness in finding the lily of Yorrow:
He has discovered it first, and perhaps I shall find it to-morrow.


More Flower Poem




School
Poet: Henry VanDyke

I put my heart to school
In the world where men grow wise:
"Go out," I said, "and learn the rule;
Come back when you win a prize."

My heart came back again:
"Now where is the prize?" I cried.--
"The rule was false, and the prize was pain,
And the teacher's name was Pride."

I put my heart to school
In the woods where veeries sing
And brooks run clear and cool,
In the fields where wild flowers spring.

"And why do you stay so long
My heart, and where do you roam?"
The answer came with a laugh and a song,--
"I find this school is home."


More Poems About School




Heroes Of The "Titanic"
Poet: Henry VanDyke

Honour the brave who sleep
Where the lost "Titanic" lies,
The men who knew what a man must do
When he looks Death in the eyes.

"Women and children first,"--
Ah, strong and tender cry!
The sons whom women had borne and nursed,
Remembered,--and dared to die.

The boats crept off in the dark:
The great ship groaned: and then,--
O stars of the night, who saw that sight,
Bear witness, These were men!


More Inspirational Poems




A Lover's Envy
Poet: Henry VanDyke

I envy every flower that blows
Along the meadow where she goes,
And every bird that sings to her,
And every breeze that brings to her
The fragrance of the rose.

I envy every poet's rhyme
That moves her heart at even'time,
And every tree that wears for her
Its brightest bloom, and bears for her
The fruitage of its prime.

I envy every Southern night
That paves her path with moonbeams white,
And silvers all the leaves for her,
And in their shadow weaves for her
A dream of dear delight.

I envy none whose love requires
Of her a gift, a task that tires:
I only long to live to her,
I only ask to give to her,
All that her heart desires.
More Favorite Poems by Henry VanDyke
More Famous Poems to Encourage and Inspire
Short Poems & Quotes
    |    
Quotes
    |    
About Us
    |    
Contact Us
    |