13 Henry VanDyke Poems
Henry VanDyke has influenced and inspired many over the years. Born in Germantown, Pennsylvania on November 10, 1852 his work as an author, clergyman, and professor of English literature has made a positive difference in the lives of his students and people of all walks of life. He also contributed to the first Presbyterian printed liturgy, The Book of Common Worship of 1906, which has impacted thousands of people.
He died on April 10, 1933, but his work continues to live on and inspire people today. We hope the poems shown here to inspire you and add a positive thought to your day.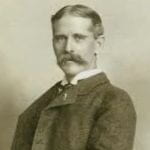 Henry VanDyke
More Famous Poems from Famous Poets to Encourage and Inspire
Short Poems
|
Poems
|
Quotes
|
About Us
|
Contact Us
|