11 Alice Cary Poems
Short Poems
   /  
Famous Poems
   /   Alice Cary Poems -
related Famous Poets
Be inspired by this collection of poems by Alice Cary. Alice Cary was born in Ohio on April 26, 1820. She came from a large family - nine children. Coming from such a large family, living on a farm that was miles from schools and towns Alice's education was not a formal one. But she loved reading and she and her sister, Phoebe read and studied all they could.
When Alice was 17 she wrote verses that we published in newspapers. Both her and her younger sister,
Phoebe Cary
, wrote many uplifting poems. She died at the age of 51, in 1871, from tuberculosis. But her poetry and verses live on today!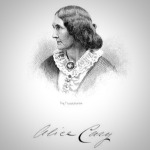 Alice Cary
Popular Alice Cary Short Poems:































More Famous Poems to Encourage and Inspire
Short Poems
    |    
All Poems
    |    
Quotes
    |    
About Us
    |    
Contact Us
    |