9 Spring Poems
Enjoy these Spring poems. Let the poems remind you that spring is a time of renewal.

One of the best times of the year, Spring! Enjoy these short poems expressing the Poet's views about Spring. Our very first and best thoughts of spring are ones of life. Everything seems to come alive in the spring. It is a joyous and wonderful time of the year.

Poems About The Seasons / Spring Poems



Spring
William Cullen Bryant

The country ever has a lagging Spring,
Waiting for May to call its violets forth,
And June its roses- showers and sunshine bring,
Slowly, the deepening verdure o'er the earth;
To put their foliage out, the woods are slack,
And one by one the singing-birds come back.

Within the city's bounds the time of flowers
Comes earlier. Let a mild and sunny day,
Such as full often, for a few bright hours,
Breathes through the sky of March the airs of May,
Shine on our roofs and chase the wintry gloom-
And lo! our borders glow with sudden bloom.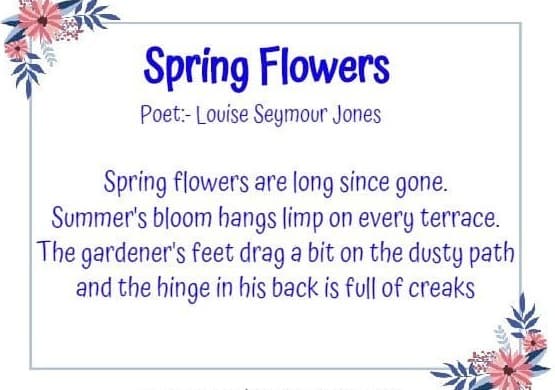 The Lawn Mower
Poet: Sarah Barber

When we finally flip it over
the fireflies are out. The neighbor boy
has had his stitches in so I can finally admit
I think it is all fantastic: the suck
of the spark plug undone, the stuck blade
bent into the guard, and the sound
of the hammer's head reshaping the metal.
In this our suburban Eden we've only
a teenage Adam too dreamy to manage
his motorized scythe and silly Eve leaving
her coffee cups and plastic plant pots
behind in the grass. Though it's a long way
from a fall, this spring's first disaster,
I did like the thin thread of red
on his upper lip, and I like my mower
turned over among the glowworms,
a monstrous dandelion as unnatural as we
are, out in a garden, with our untidy
golds and our dangerous sharps.



Early Spring
Poet: William Wordsworth

Through primrose tufts, in that green bower,
The periwinkle trailed its wreaths;
And 'tis my faith that every flower
Enjoys the air it breathes.

The birds around me hopped and played,
Their thoughts I cannot measure:—
But the least motion which they made
It seemed a thrill of pleasure...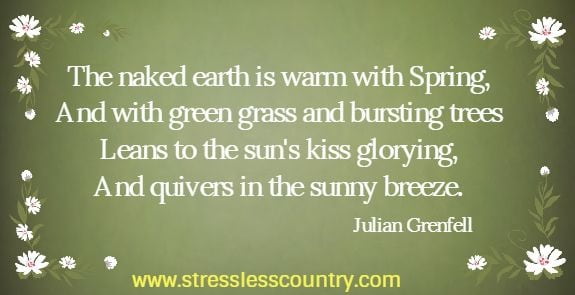 Sweet May hath come to love us,
Flowers, trees, their blossoms don;
And through the blue heavens above us
The very clouds move on.
Heinrich Heine


Spring forever appears
the soothing music part
of lyrics unspoken.
It thaws the frozen fears,
mends the wounded heart
that Winter has broken.
Aarno Davidson


The year's at the spring,
And day's at the morn;
Morning's at seven;
The hill-side's dew-pearled;
The lark's on the wing;
The snail's on the thorn;
God's in his Heaven -
All's right with the world!
Robert Browning


I've banished Winter, saith the Spring,
Awake! arise, ye flowers!
Brisk breezes blow,
Bright sunshine glow,
And rouse the young Year's powers.
Henry James Slack





More Poems About The Seasons to Inspire




You May Also Like:
Gardening Poems

Garden Quotes

Sky Quotes

Fall Quotes

Autumn Poems

Winter Poems

Butterfly Poem




Short Poems | Poems | Quotes | About Us | Contact Us |