Positive Influence
Are you a positive influence? You influence people every day whether you realize it or not. What you say, how you say it, actions you take or don't take. All of these influence others. Be conscious of your words and actions, be a positive influence.

When we surround ourselves with people who have a positive impact on our life we find support, encouragement and inspiration from these people. We agree with the thoughts of Rachael Bermingham, "Surround yourself with people who are really good and really passionate about what they do . . . positivity and passion make a powerful combination."

And yes, there are lots of negative - negative people, negative tv, negative books - but you can be influenced by the positive by the books you read, the tv you watch, and the people you spend your time with. As Samuel Cypert said, "Others may influence or suggest, but only you can control what your mind accepts or rejects."

In the book, 10 Ways To Make Sure You Never Find Happiness, C J Kruse wrote, "The objectives, intentions and decisions of other people affect your life. From school to work and family life, others do things that influence you, whether you like it or not." We believe that you can determine whether it is a negative or a positive influence.

Short Poems   /   Inspirational Poems    /   Positive Poems    /   Positive Influence - related: Short Positive Quotes



Positive Is The Key
Poet: Catherine Pulsifer, © 2012

To every negative, there is a positive,
Just like there's up and down.
The trick is to keep in mind,
That positive overcomes a negative frown.

If you take every negative,
And find the good in it.
You'll soon see the magic,
That positive mind can transmit.

And even more magically,
That a positive mind can do.
You'll soon see,
That it will bring others straight to you.

People are attracted,
To everything that is,
Positively influencing.
Positive is the key.




Poets Thoughts:
There are many keys to success, but being a positive influence on others is meaningful and a sign of success. You can have a positive influence on others by:


Have a positive outlook -no matter what has occurred find the good in it, even if only a small thing, focus on the good, leave the negative



Use action not words - rather than talking about something that will make things better, take action and do it. People will see the effects of your actions rather than just words. This can be a positive influence for others to do the same!



Be creative in your thinking - look outside the normal, find creative ways to accomplish a task or handle a problem.



Be solution oriented not a problem complainer - rather than waste time moaning about the problem, keep everyone's focus on finding the solution



Be a role model - people are watching you even when you don't realize it. Be positive in all actions you take



Choose to be happy - each and every day we make the choice to be happy or not. Others see this in our actions and our attitudes and it can be a positive influence to those around us.
Positive minded people are more likely to achieve a successful life and make a difference in other people's live by positively influencing them!




Don't Sit On The Roadside
by John B. Cough

If you want to succeed in the world,
you must make your own opportunities as you go on.

The man who waits for some seventh wave to
toss him on dry land will find that the
seventh wave is a long time a-coming.

You can commit no greater folly than
to sit by the roadside until some one comes along
and invites you to ride with him to wealth and influence.





More Positive Poems  for Encouragement and Inspiration




Related Short Poems & Quotes You May Also Like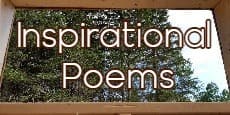 Inspirational Poems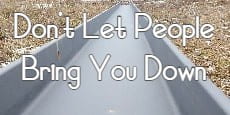 Don't Let People Bring You Down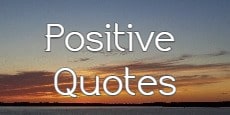 Positive Quotes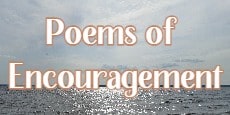 Poems Of Encouragement
Graduation Poems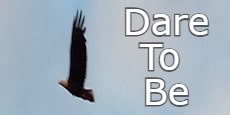 Dare To Be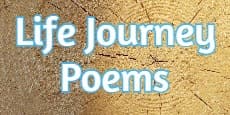 Life Journey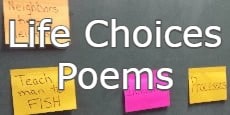 Life Choices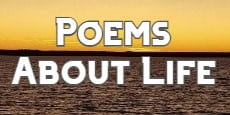 Poems About Life


Short Poems    |     All Poems    |     Quotes     |     About Us    |     Contact Us    |