Brother Poems
Share these brother poems with your brother. You will find brother verses from sister, happy birthday poems and also a selection of brotherhood poems. Some poems are short and others longer. But all reflect the feelings toward a sibling brother.

Brothers are special people in our lives. When we are younger brothers tend to be teases, or they tend to be a pain, but as the years pass brothers often become good friends.

Use the verses in these poems to express your thoughts to your brother!



Brother, Oh Brother
Poet: Catherine Pulsifer

Brother, oh brother, where would I be without you
Over the years you have helped me in all I do.
You have been an encourager and a big fan
In my opinion, you're the best in the clan!

You are always willing to lend a hand
And you always had time to listen and understand
Brothers like you are far and few
What would I ever do without you?

We have shared many tears
Over the past years
But also we have had more
Fun times galore!

Siblings we are, but now best friends
I will always be here for you to the end.
I just want to say thank you, my brother,
There truly is no other!

Read more Poems For My Brother



Growing Up
Poet: Catherine Pulsifer

Growing up I was always to blame
You just sat and smiled all the same
No matter what I did
You always blamed "the kid".

And in the middle of the night
You would sneak around and give me a fright
And there were times when I would hide
And you would look for me high and wide.

And you always loved the snow
You made snowmen just for show
You always did well on the tests
You were smarter than the rest.

And as a teenager, you thought you were cool
The girls would look at you and drool
I would roll my eyes and sigh
If they only knew, they would cry.

Oh the memories of so long ago
Yes, when we were kids we didn't know
What great friends we would be
As we got older and more crazy!

So you, my dear brother, I have a bond
Of you, I have grown so fond
You're the best brother a girl could have
Even if you almost drove me mad!

Read more Brother Poems From Sister



Where Did The Years Go
Poet: Catherine Pulsifer

Where did the years go
It seems like so long ago!
We were kids and teased each other so
We would play and have fun in the snow.

We would play tricks and giggle
And we would dance like a wiggle
Where did the years go
It seems like so long ago!

Now here you another birthday
And you have gone a bit gray
But hey my brother that is okay
As we still love you every day!


A Brother Dear
Poet: Catherine Pulsifer

Happy Birthday to a brother who is dear
As you read this I can see your grin ear to ear
Yes it is me your sister saying your dear
Did you ever think those words you would hear?

But, you my brother, you're the best
Your age shows you're reaching the crest
It's over the hill for you now
So let your sister, please allow

A song I want to sing for you
Siblings we will always be that's true
And with the age you are now at
It's okay you're a little fat.

All joking aside, I wish you a Happy Day
May you enjoy it in every way
We want you to know we are always there
And for you, we do care!

Read more poems that say
Happy Birthday To My Brother



A Better Place
Poet: Catherine Pulsifer

This world would be a better place
If we forgave each other and gave some grace
When others do wrong we are quick to blame
But many times we are the same.

Brotherhood of man can be
A realization can't you see
Helping each other, lending a hand
Rather than anger and demands.

Rather than judge each other
We should act more like brothers
Loving one another changes things
And peace to the world it would bring.

Read more Poems About Brotherhood


More Poems About Family To Inspire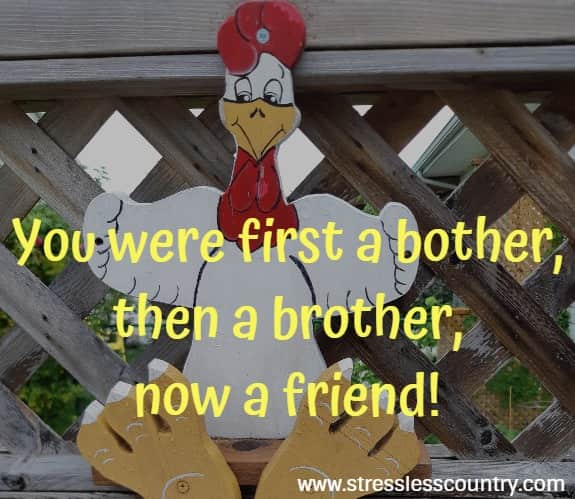 We hope that you have found a poem or verses that describe your brother and one that you will share with him. Take the time to let him know how much you appreciate and love him send him a verse or two!


Short Poems | Brother Quotes | Quotes | Poems | About Us | Contact Us |