Another Year Older
Birthday poems to share with those turning another year older. One that was written in good fun. It will bring a smile to your face. Also, enjoy the one year older quotes and thoughts. One year passes, then another, and then the day hits you where did all the years go.




Another Year Older


Poet: Julie Hebert, ©2011



I must start this off by saying Happy Birthday,
To someone who's always so fun.
It's hard to believe you're getting older,
But don't worry you've still got a long run.

Today your just turning a year older,
It's not like your losing your hair.
Oh wait you have started receding,
I'm so sorry your scalp is going bare.

Next, you'll be seeing wrinkles,
Then comes the bodily displease.
Oh my, getting older is scary,
But I'm sure you'll age just like old cheese.

Wait, old cheese does not age very well,
I meant you'll age like old wine.
Oh really, who am I kidding?
You're still the best, that's the bottom line!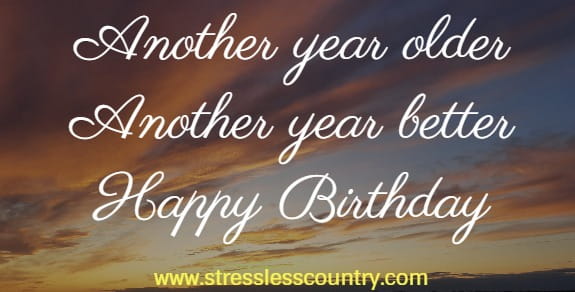 A Birthday Wish


Poet: Catherine Pulsifer, ©2019



A birthday wish is sent to you
Another year older look how much you grew
As you journey down life's road
Be sure to take your raincoat.

As you will have your ups and downs
There will be days you wish you were a clown
But always remember our love for you
We wish only happiness and success for you.





One Year Older Quotes, Thoughts, and Wishes

One year wiser, full of living, laughing, and fun
May the coming year be just as good as the last one!
Catherine Pulsifer
Birthday Quotes


Getting older is fine. There is nothing you can do to stop it, so you might as well stay on the bus.
John Byrne
Cute Quotes


One can make a difference,
One smile can cheer someone up,
One kind word can make someone's day
One year older, appreciate your life in every way.
Kate Summers
Appreciation Quotes


The great thing about getting older is that you don't lose all the other ages you've been.
Madeleine L'Engle
Funny Birthday Poems


Another year has passed you by
Don't you dare sit and cry
Celebrate this special day
Happy Birthday we do say!
Theodore Higginsworth
Funny Birthday Poem On Aging


Another year old, but we still think your dear,
Count your blessings and thank God for another year.
Samuel Johnstone
Thanksgiving Poems


Related:
Short Quotes

Positive Messages

Poems About Life

Poems About Change


More Birthday Poems


Short Poems | Poems | Quotes | About Us | Contact Us |