How Terrible To Be Poor
A poem that reflects the thoughts of an unbeliever who is sees others who are poor. They can't imagine have little to live on. Yet being poor brings a strong reliance on God and His provisions. And in the end you are richer than the richest person. You have to feel sorry for the rich, for those who don't believe. We know our time on earth goes by in a flash, but eternal life is forever where nothing decays. As stated in James 1:10, "But the rich should take pride in their humiliation—since they will pass away like a wild flower."
I would far rather have riches in heaven than riches here on earth. To quote from the Bible, Matthew 6:19-20 (NIV), "Do not store up for yourselves treasures on earth, where moths and vermin destroy, and where thieves break in and steal. But store up for yourselves treasures in heaven, where moths and vermin do not destroy, and where thieves do not break in and steal."
Short Poems
   /  
Christian Poems
   /   How Terrible To Be Poor
How Terrible To Be Poor
Greta Zwaan, © 2019


How devastating to be poor, not having wealth on earth,
No cause to brag of all you own, to be of little worth.
No mansion to adorn with lights, no gardens to display,
No servants who would call you "Sir" and do what e're you say.

No limousine to drive in style with chauffeur at the wheel,
No smart, impressive clothes to wear, no luxury appeal.
No bank accounts with great assets, no office to address,
No friends to envy all you own and no one to impress.

You are so poor you only have what God gives you each day;
Faith to draw you close to Him when e're you kneel to pray.
A promise that His strength is yours, a knowledge that He's there,
A hand of love to hold you up where you are free of care.

You own no lands, you have no claims but you are royalty,
You are a child of God the King, eternal Majesty!
He recognizes what you're worth – a jewel for heaven's crown,
You are a witness to His love, your feet on holy ground.

Your popularity on earth does not exist for you,
But God's own angels guide your path when day begins anew.
Your needs supplied, your goal is set, and you are heaven bound,
Your earthly ties do not entice for heavenly wealth you've found.

All earth's values will decay so no one can lay claim,
But poverty exists no more when you have Jesus' name!
More Christian Poems to Inspire You
More Short Poems & Quotes You May Like: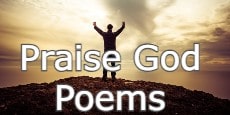 Praise God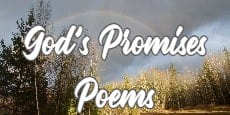 God's Promises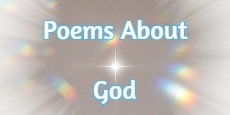 Poems About God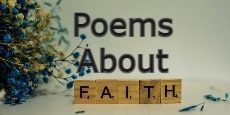 Poems About Faith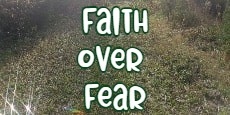 Faith Over Fear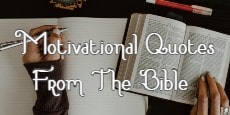 Motivational Quotes From The Bible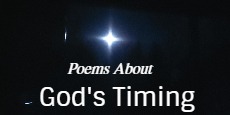 God's Timing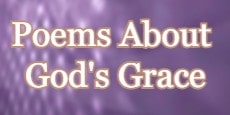 Gods Grace Verses & Poems
Short Poems
    |    
Poems
    |    
Quotes
    |    
About Us
    |    
Contact Us
    |