To Mother
Poems that were written to Mother. Verses that describe how a Mother is bound to their child, how sweet reminder of her child, and the love that she has and her child has for her.

Short Poems   /   Special Occasion    /   Mothers Day Poems    /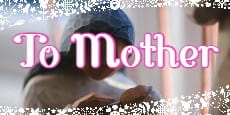 - Mothers Day Messages
To Mother
Poet: C. C. Hassler

No sweeter sound can mortal hear.
Or falls on "Mother's" listening ear,
Than helpless infant's plaintive cries
As in its mother's arms it lies.
Her life, her love, her hopes are there.
And hallowed by her saintly prayer
She looks into its face with joy,
And come what will in future years
To thrill her heart with hopes or fears,
To her 'twill live, 'mid joy or tears -
Her babe's first cry that binds her boy
To Mother.

What tho his wayward feet have trod
A path that leads away from God,
And prayers he learned beside her knee
May still for years forgotten be -
Or if upon the scroll of fame
May written be his honored name,
Her happiness without alloy
Will shine upon her dear old face
With radiance bright naught can efface
If in her hand some token place
Some sweet reminder from her boy
To Mother.

Perchance the gift may be the bloom
Of flowers, bright with sweet perfume.
With petals, soft and pure, and white.
That lilossomed 'neath God's pure sunlight,
If from the absent boy it came,
And through her tears she reads his name.
Naught can her happiness destroy,
But sweet as fragrance of the flowers
That bloomed in some "Elysian'' bowers,
She'll dream of by-gone happy hours
And prize her gift from absent boy
To Mother.

Ah, Mother's love, so deep, so pure,
To live and through all time endure,
A fountain from which of a truth.
Springs all things good, to bless our youth,
God's wisdom would be incomplete
And loving kindness be less sweet,
That human lives on earth enjoy
Were it not for that gentle grace
That lives to bless the human race.
Those smiles that light up Mother's face
And calls back home the absent boy
To Mother.

Mankind may fame and honors crave
From earliest manhood to the grave;
But tho the shadows gather o'er
Her path, as nearing Heaven's shore.
How tenderly old memories bring
And cause her trembling lips to sing
Sweet songs of childhood - blest.
Methinks, if absent son could see
His gift of flowers on her knee,
His love expressed would surely be
For one who loves him truest, best-
His Mother.




An Angel
Poet: Edmund Clarence Stedman

She seemed an angel in our infant eyes.
Once when the glorifying moon revealed
Her who at evening by our pillow kneeled,
Soft-voiced and golden-haired from holy skies
Flown to her loves on wings of Paradise,
We looked to see the pinions half-concealed.

This picture lingers; - still she seems to me
The fair angel of my infancy.




My Mother
Poet: May Riley Smith

The sweetest face in all the world to me,
Set in a frame of shining silver hair,
With eyes whose language is fidelity;
This is my mother. Is she not most fair?

O mother! in the changeful years now flown.
Since, as a child, I leant upon your knee,
Life has not brought to me, nor fortune shown,
Such tender love! such yearning sympathy!

Let fortune smile or frown, whiche'er she will;
It matters not, I scorn her fickle ways!
I never shall be quite bereft until
I lose my mother's honest blame and praise!
More Mothers Day Poems to Encourage and Inspire
Related Short Poems & Quotes You May Also Like: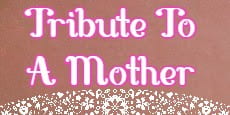 Tribute To Mother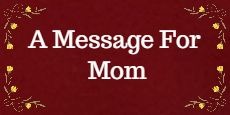 Mothers Day Messages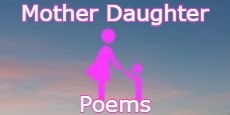 Mother Daughter Poems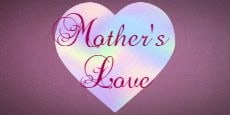 A Mother's Love Poem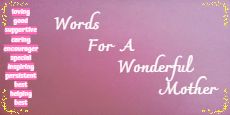 Words For A Wonderful Mother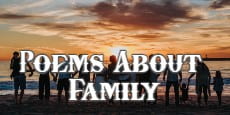 Poems About Family




Short Poems    |     All Poems    |     Quotes     |     About Us    |     Contact Us    |