Respect Poem
Let this respect poem remind you that we all need to show consideration and thoughtfulness to others. It doesn't matter who or what you do every person deserves respect.

Also, let the respect quotes be ones that you consider when you think about others!


Everyone Is Worthwhile
Poet: Julie Hebert, ©2015

Life is for the go-getters,
The ones who change the world.
But never forget the few of us,
That work till the tides are hurled.

We are not known across the globe,
Or have a hefty pay.
We may not even have a car,
But we do our part each day.

We make a contribution,
To the world and all who live.
And although our jobs may not seem significant,
We still work hard and smile and give.

We are the people who serve you,
The gas attendant, gardener or cashier,
We are also hidden behind the scenes,
Wishing that we could appear.

We are often overlooked,
Not even given a smile.
Next time you run a quick errand,
Remember, respect and everyone is worthwhile.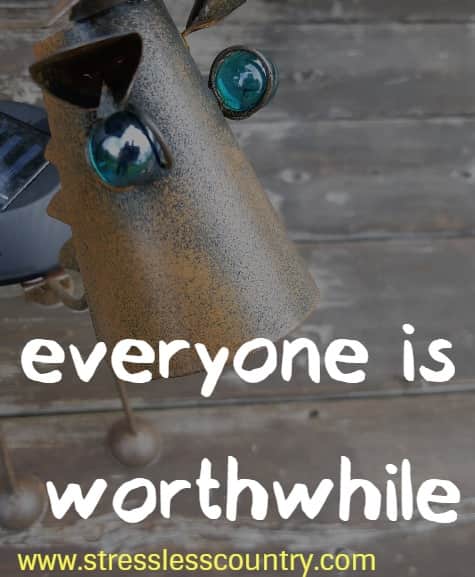 Wealth and Want
Poet: Henry Reed Conant

How often the poor are despised and neglected,
For no other reason except they are poor;
How often the rich are beloved and respected,
Because they have uncounted wealth at their door.

There's many an honest and virtuous heart,
To-day within poverty's prison enchained;
While thousands reside amid pleasures of art,
Whose wealth was thro' vice and dishonesty gained.

Despise not the needy because they are poor,
Nor envy the wealthy because of their gold;
Good or ill fortune may stand at our door,
But true hearts are not to be purchased or sold.


More Poems about Life


Respect Quotes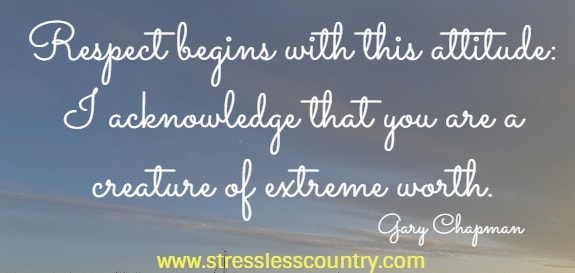 You need to speak your truth very kindly to the people around you and they will learn to respect you more.
Michele Gilbert, The Introvert
Kindness Poem


In fact, managing criticism is usually not an efficient communication process; however, treating others with respect, regard, and effectiveness outweighs being efficient. Randy Garner, Constructing Effective Criticism
Randy Garner, Constructing Effective Criticism
Criticism Quotes


When you are content to be simply yourself and don't compare or compete, everybody will respect you.
Lao Tzu
Short Inspirational Quotes


Respect is lost when people choose to hold onto their anger and foster resentment.
Vivian Sandau, Mutual Respect in Marriage
Anger Poems


Difference is of the essence of humanity. Difference is an accident of birth and it should therefore never be the source of hatred or conflict. The answer to difference is to respect it. Therein lies a most fundamental principle of peace: respect for diversity.
John Hume
Poems About Life


Communication helps us understand a person or situation. It enables us to solve problems, settle differences with others, create an environment wherein we can generate ideas, and build respect, trust and affection.
Patrick Kennedy, Negotiation: Power Negotiation - Getting To The YES
Problem Quotes


If every individual practiced self-love, the world would be different. I believe there would be more peace, people would work together better, and people would love and respect each other more.
Tina Nies, 40 Day LoveFest for You
Poems About Life And Love




You May Also Like

Success Poem

Positive Poems

Poems of Encouragement

Poems About Life Lessons


More Poems About Life to Encourage and Inspire


Short Poems | Poems | Quotes | About Us | Contact Us |