God's Garden
Poet: Robert Frost

God made a beauteous garden
With lovely flowers strown,
But one straight, narrow pathway
That was not overgrown.
And to this beauteous garden
He brought mankind to live,
And said "To you, my children,
These lovely flowers I give.
Prune ye my vines and fig trees,
With care my flowers tend,
But keep the pathway open
Your home is at the end.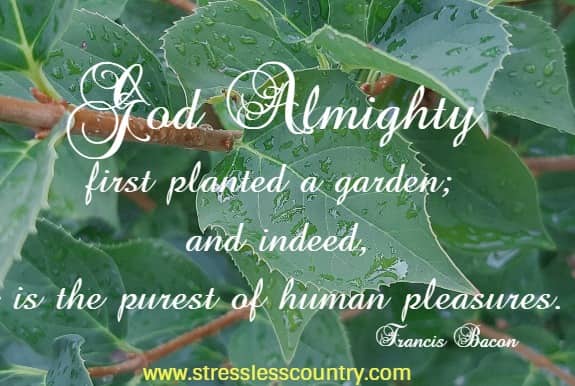 I Saw God Wash The World
Poet: William L. Stidger

I saw God wash the world last night
with His sweet showers on high,
and then, when morning came, I saw
Him hang it out to dry.

He washed each tiny blade of grass
and every trembling tree;
He flung His showers against the hill,
and swept the billowing sea.

The white rose is a cleaner white,
the red rose is more red,
since God washed every fragrant face
and put them all to bed.

There's not a bird, there's not a bee
that wings along the way
but is a cleaner bird and bee
than it was yesterday.

I saw God wash the world last night.
Ah, would he had washed me
As clean of all my dust and dirt
As that old white birch tree.



Short Verses about God's Garden
God Almighty first planted a garden; and indeed,
it is the purest of human pleasures.
It is the greatest refreshment to the spirits of man,
without which buildings and palaces are but gross handiworks.
Frances Bacon


God Bless the grass
That grows through the crack they roll the concrete over it
To try and keep it back the concrete gets tired
Of what it has to do it breaks and it buckles
And the grass grows through.
God bless the grass
Malvina Reynolds


God planted the earth
He gave the world birth
He created gardens for all to enjoy
We must be careful not to destroy
Enjoy the beauty of it all.
No detail is too small
Beauty surrounds us each and every day
Open your eyes and see it displayed.
Catherine Pulsifer