5 Only A Flower Poems
Be inspired by these only a flower poems that reflect on the beauty of flowers. From the water lily to the violet flowers provide a sense of wonderment and amazement to our daily lives. You may think it is only a flower, but that flower could brighten someones day!
Short Poems
   /  
Famous Poems
   /  
Eloise A. Skimings Poems
/ Only A Flower Poems - in
Garden Poems
Only A Flower
Poet: Eloise A. Skimings

Only a flower, on the pavement it lay,
Falling unseen from some beauteous bouquet;
Picked up by some one, and tended with care
It blooms now as fresh as it bloomed in the air.

How little it dreamt of the fate now in store.
When lovingly pulled a few moments before;
In yonder sick chamber it sheds perfume sweet,
And no one could know it was found in the street.

Thus with frail mortals, whose talent now is cast
Aside, and o'erlook'd by the many who have passs'd,
Till some noble mind sees a flash in the gem,
And in a hero's crown it forms a diadem.





Our Lives Like Flowers
Poet: Eloise A. Skimings

Thy gift I prize highly, so pretty and bright,
Of scarlet geraniums, and pink mix'd with white.
And ivy so green, 'tis a lovely bouquet,
I wish it could live and be fragrant alway.

But it must perish, like the joys of this earth,
A type of the heart, void of pleasure and mirth;
Our lives should be bright while we live, like these flowers,
And cheer our dear friends in their sad weary hours.





Water Lillies
Poet: Eloise A. Skimings

Flowers of the deep, bow grand in thy beauty,
Ever floating with pride o'er Huron's pure breast
Like cups of pure gold, luring man from his duty
And filling his mind with a heavenly rest.

Earth has no flower in her garden so royal,
So queenly and grand as this queen of the wave;
So proudly ye look, so strong and so loyal,
The foam crest your birth place, the foam crest your grave.

Where are ye now, when your home is frost laden?
The ice king is gamboling free o'er your bed;
But the sun will restore thee, as hope does the maiden
Who gathers June roses for the perfume they shed.





April Violets
Poet: Eloise A. Skimings

O violets, sweet violets, ye heralds of spring,
What fond recollections to my heart ye bring;
So sweet is your perfume, ye whisper of hope
When your scented blue leaves, five petall'd, ye ope.

O violets, sweet violets, waft ye to heaven
The pure joys of life, which to mortals are giv'n;
Speak not of the shadows which oft round us lie,
But of the warm sunshine that comes from on high.





The Trumpet Flower
Poet: Eloise A. Skimings

Grand in its beauty, the trumpet flower climbs
O'er trellis'd wall,
Its flame color'd blossoms, so strong and so lofty,
Charm great and small;
Its leaves of ever-green beauty fill the heart
With beauty rare,
Welcom'd by the August sun which on them shines
With tender care.
More Eloise A. Skimings Poems to Inspire & Motivate
Related Short Poems & Quotes You May Also Like: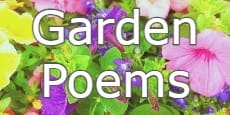 Garden Poems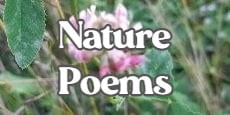 Nature Poems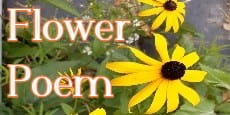 Flower Poem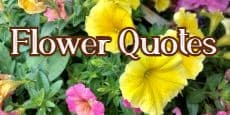 Flower Quotes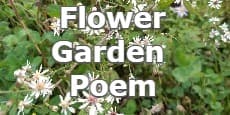 The Flower Garden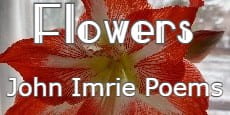 Flowers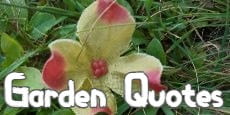 Garden Quotes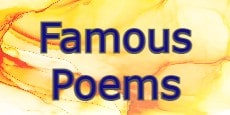 Famous Poems
Short Poems
    |    
Poems
    |    
Quotes
    |    
About Us
    |    
Contact Us
    |