A Smile Costs Nothing
A smile costs nothing - it doesn't cost a cent it only takes us a second to smile and it doesn't cost a lot of time either. Think about this - what can you do that costs no money but can have a positive impact on others? A smile does this.

Enjoy this wonderful poem written many years ago by D. W. Moore. But his words still hold so much truth today. Let it remind you to be conscious each and every day, to greet others with a smile. You will not only influence someone else's day but it will have an impact on you also!

Also enjoy the other short poems that will remind you that your smile cost nothing to give to others. As Tony Curl once said, "Smiles are such a simple thing to give but means so much to many."

Short Poems   /   Poems Of Encouragement    /   Smile Poems   /   A Smile Costs Nothing


It Doesn't Cost A Cent
Poet: D. W. Moore

One of the many essential things
That make our lives worth while;
(Tho' it cost the least of all)
Is a sweet and pleasant smile.

A smile thus bubbling from the heart
Of our friends or fellowmen,
Will drive the clouds of gloom away
And bring the sunshine again.

Its magic power, how great and good;
Like an arrow to the heart 'tis sent;
It's more valuable than silver or gold,
Yet it doesn't cost a cent.




With A Smile
by Byron Pulsifer

To be of good humor is to be of good cheer each day,
With a smile and a bounce to each step of the way.
A smile is one of the few things in life
That eases tension and settles strife.
So give freely a smile of yours
You will find that it will open doors.




So Simple
Poet: Catherine Pulsifer

A smile so simple, so easy to do,
Can brighten the world of someone who is blue!
All it takes is a thought and time
It doesn't cost you a dime.

But that smile may be worth a million bucks
To someone who is down on their luck
You never know the impact it will have
Share a smile - make others glad!




Sweet Smile
Poet: E. K. Goldsborough, M.D.

For smiles of tender kindness
Will dry up a falling tear,
And loving deed will often fill
A broken heart with cheer.
So living and so loving,
You can gladen with a sweet smile, too.




Easily Given
Poet: Unknown

It was only a sunny smile,
And little it cost in the giving;
But it scattered the night
Like morning light,
And made the day worth living.
Through life's dull warp a woof it wove,
In shining colors of light and love.
And the angels smiled as they watched above.
Yet little it cost in giving.

It was only a kindly word,
And a word that was lightly spoken;
Yet not in vain.
For it stilled the pain
Of a heart that was nearly broken.
It strengthened a fate beset by fears
And groping blindly through mists of tears
For light to brighten the coming years.
Although it was lightly spoken.

It was only a helping hand,
And it seemed of little availing;
But its clasps were warm,
And it saved from harm
A brother whose strength was failing.
Its touch was tender as angels' wings,
But it rolled the stone from the hidden springs,
And pointed the way to higher things,
Though it seemed of little availing.

A smile, a word, a touch,
And each is easily given;
Yet one may win
A soul from sin
Or smooth the way to heaven.
A smile may lighten a falling heart,
A word may soften pain's keenest smart,
A touch may lead us from sin apart —
How easily each is given!
Read More Smile Poems to Encourage and Inspire
Related Short Poems & Quotes You May Also Like: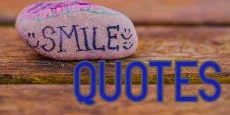 Smile Quotes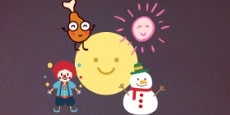 Smile More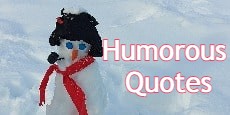 Humorous Quotes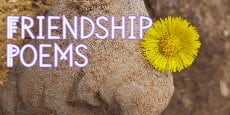 Friendship Poems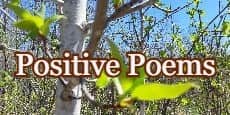 Positive Poems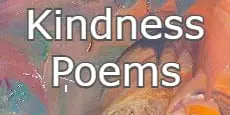 Kindness Poem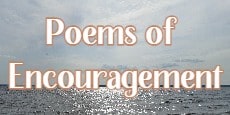 Poems of Encouragement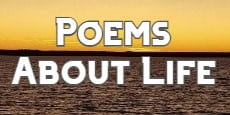 Poems About Life


Short Poems    |     All Poems    |     Quotes     |     About Us    |     Contact Us    |