36 Community Service Quotes
Community service quotes highlight giving to others rather than taking for yourself. Short quotes to remind you to volunteer to assist others in need is to recognize that for some of us sooner or later we all need help of one type or another. It is the aspect of selfless assistance from another or a group that often allows us to meet a particular challenge or to overcome a major obstacle in our life.
Without service-oriented people, our communities cease to be a body of neighbours and cease to be a connected enclave of humanity. Community service comes in many forms and in a variety of situations. Some circumstances call for the mobilization of a majority of the members of a community such as is evident in a catastrophic event like a major hurricane, or it is by a singular person extending a helping hand.
Whatever the situation or circumstance, we hope that these service-oriented quotations will give you food for thought or a big thank-you for all that you do in the service to others. Be of service in your community!
Quotes
   /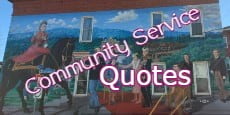 More Quotes for Encouragement and Motivation
Short Poems & Quotes
    |    
About Us
    |    
Contact Us