Stern Winter
Many people hate the cold of winter. This wintry poem, by Caleb Davis Bradlee, gives you a different perspective on winter.

Of all the seasons, winter is the one that not all people look forward to. Some people like to try and hibernate as much as possible preferring the warmth of inside their home with some people spending as much time as possible in front of a warm fireplace. For these types of people to go outside is only out of necessity and not because of desire.

On the other hand, there are those folks who can't wait for the winter snow to arrive. They want to exit their confines and head to the snowy slopes for a day of skiing, or to the outdoor ice rink, or for a long, invigorating snowshoe trip through pristine woods. Or, it is a great opportunity to take a horse and sleigh ride through the winter wonderland. It is not that these types of people really prefer the coldest days to the warm summer months but it is more that they enjoy what God brings to them with the change of seasons. It is also true that many people who live in extreme heat most of the year would relish a change of temperature to a temperature that is cool and refreshing, and also to be able to experience a white Christmas. A snow-filled white Christmas is a time to celebrate the birth of Jesus Christ, and is a time of joy, happiness and warmth around family and friends.

However, without the winter snow covering that melts in the spring, many plants and trees would not bloom in the spring. The winter's snow also is the necessary water that fills homeowners' wells. This winter water is the lifeblood of many a homesteader and gives life to those who live there, and to the crops that are planted. It is this water that flows to nourish all that God has made to come alive - the tiny seeds that grow into many types of grains, vegetables and fruit trees.

When God created the earth, the seasons were a natural part of His creation. And God never creates anything that is bad. All that He created plays a part in the overall good of the world. So, as the cold winds blow, and the snow falls, be reminded of this poem and the good things that winter brings.
Short Poems
   /  
Famous Poems
   /  
Caleb Davis Bradlee Poems
   /   Stern Winter - in
Poems About The Seasons
Stern Winter
by Caleb Davis Bradlee

Stern winter bids us all good cheer,
With snowy robes so light,
A priest it stands before us here,
A priest all pure and bright.

With heavy winds the air is filled,
And ice and cold are here,
And all the world seems greatly chilled,
And all things look austere.

Yet all this cold God sends for good,
He blesses nature's sleep,
And thus prepares our daily food,
By science true and deep.

We'll trust Him, then, whate'er may be,
Whilst storms may rage at will!
In all things mighty love we'll see,
And keep serenely still.
More Caleb Davis Bradlee Poems to Inspire
Related Short Poems & Quotes You May Also Like: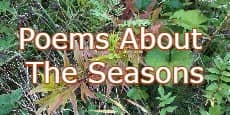 Poems About The Seasons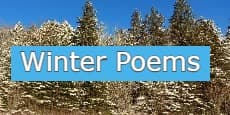 Winter Poems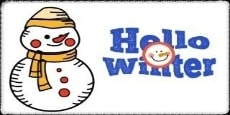 Winter Poems For Kids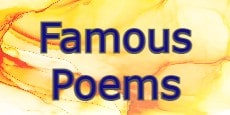 Famous Poems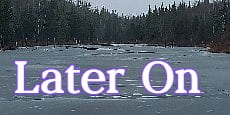 Later On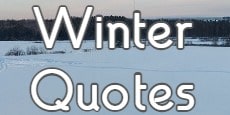 Winter Quotes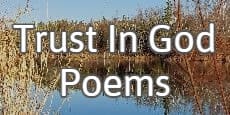 Trust In God
Short Poems
    |    
Poems
    |    
Quotes
    |    
About Us
    |    
Contact Us
    |