Birthday Stress
Do you know someone who is experiencing stress because of their birthday. They feel another birthday and getting older is stressful. Bring a smile to their face with the poem, Stressed By Age. Birthdays are not a time to feel stressed, they are a time of celebration!

The poem is also great to share with someone who you want to rub in how old they are on their birthday. Also, share the quotes and thoughts about stress and birthdays.


Do Not Be Stressed
Poet: Julie Hebert, © 2012

It's that time again to say happy birthday,
To someone who is always so great.
Another year has gone past you,
Ain't birthdays something we love to hate.

Don't be stressed about getting older,
We all have to age at some point.
It's nice to have someone to warn us,
And you are the one we appoint.

So tell us how aging has affected you,
Are you wrinkled, exhausted or sore?
Aging can be very nasty,
So glad you are the one keeping score.

Try not to think about getting older,
Think of it as becoming wise.
Okay, that last statement is way too funny,
I should not be telling such lies.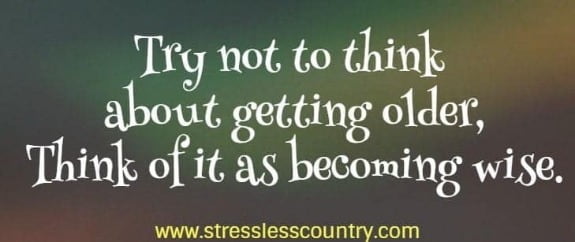 Quotes and Thoughts on Stress and Birthdays

Think about this: as we age, our experience reduces our stress!
Catherine Pulsifer
Experience Quotes


The older you get, the older old is!
Catherine Pulsifer
Funny Birthday Poems


There is more to life than increasing its speed.
Mohandas K. Gandhi
Poems About Life


Slow down and everything you are chasing will come around and catch you.
John De Paola
Cute Quotes


Stress is not what happens to us. It's our response TO what happens. And RESPONSE is something we can choose.
Maureen Killoran
Stress Quotes


In my youth, I stressed freedom, and in my old age, I stress order. I have made the great discovery that liberty is a product of order.
Will Durant
Poems of Encouragement


Don't let your age stress you out
Be happy and give a shout!
Kate Summers
Happiness Quotes


Don't let your age stress you out, celebrate your birthday as there are many people who never have that opportunity.
Catherine Pulsifer
Birthday Quotes


Related:
Smile Poem

Positive Poems

Motivational Poems

Stress Relief Quote


More Birthday Poems


Short Poems | Poems | Quotes | About Us | Contact Us |